UPDATE: The Hepatitis B Foundation and Hep B United, along with our network of patients, providers and partners, has successfully advocated for improved access to the hepatitis B medication Vemlidy in the US.! In July 2019 CVS Caremark – a subsidiary of CVS Health and one of the nation's leading pharmacy benefit managers – stopped providing coverage for Vemlidy. This decision impacted thousands of Americans who rely on this life-saving drug to manage their hepatitis B.
Our members took swift action. Together, we 
sent over 20 letters from partner organizations and gathered over 250 individual signatures for a petition encouraging CVS Caremark to provide coverage for this essential medication. 
The company announced last week that they will resume coverage of Vemlidy for their plan members as early as October 2019! Thank you to everyone who helped us to advocate for this important change. We firmly believe that all FDA-approved medications should be available for doctors to prescribe to their patients, and this change will ensure that those on CVS Caremark plans have access to this life-saving drug.
What's Next:
On October 1, 2019, Vemlidy will be processed for those under the Advanced Control Specialty Formulary. For those with a Value Formulary, Vemlidy will be covered beginning on January 1, 2020.
Until January 1st, Gilead Sciences – the creators of Vemlidy – will provide $1,000 a month (for up to $5,000) to offset the costs of treatment. Those interested can go to Gilead's website and 
apply for
a co-pay card
;

insurance is not needed.
Thank you to everyone who signed the petition, wrote a letter, or simply shared the information. Because of you, those who rely on Vemlidy now have one less barrier to accessing their needed treatment!
---
A few months ago, CVS Caremark – a subsidiary of CVS Health – announced their intentions to remove Vemlidy from their list of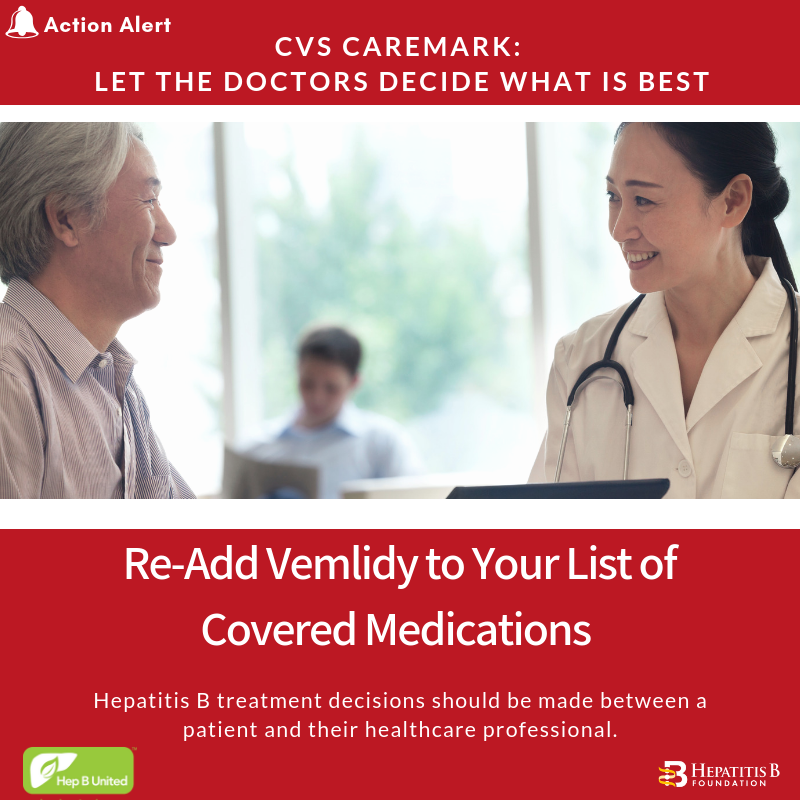 covered medications, or formulary. With over 2.2 million individuals in the United States living with chronic hepatitis B, this decision impacts thousands of Americans who rely on this life-saving drug to prevent cirrhosis and liver cancer.
CVS Caremark is the second-largest Pharmacy Benefits Manager (PBM) in the United States. As a PBM, Caremark manages prescription drug benefit plans for payers including health insurers and large employers. One of their main tasks is to negotiate drug prices with manufacturers and develop and maintain formularies on behalf of health insurers, which influence which drugs are available to patients on their prescription drug plan and determine out-of-pocket costs. Negotiations between PBMs and drug companies are common. However, they create a dangerous, unstable health and financial situation for those suffering from chronic illnesses.
When it comes to the treatment of chronic illnesses like hepatitis B, medical decisions are best made based upon knowledgeable and informed discussions between the doctor and the patient. After all, doctors have been tracking and monitoring how the virus impacts an individual for many months, if not years, and a patient is aware of how their body reacts to certain medications. CVS Caremark's decision to remove Vemlidy from their formularies limits the ability of providers to make the best treatment choice for their individual hepatitis B patients.
Vemlidy is one of just three first-line hepatitis B treatments. First-line treatments are medications that have been proven to be highly effective with the least amount of side effects. For some individuals, this drug is the best option, as other FDA treatments can increase their risk of kidney disease and bone density loss. Hepatitis B expert and Medical Director of the Hepatitis B Foundation Robert G Gish, MD, notes two separate studies where tenofovir alafenamide (TAF) (Vemlidy) had lower amounts of bone density loss and kidney impairment than tenofovir disoproxil fumarate (entecavir), another first-line treatment. In order to properly help their patients, doctors need to have a full range of tools at their disposal. All FDA approved medications should be available for doctors to choose from.
The Hepatitis B Foundation's Medical and Scientific Advisory Board is also concerned about the negative health impacts of Caremark's decision. "TAF is less likely to cause adverse bone mineral density and renal dysfunctions than Tenofovir disoproxil fumarate (TDF). This is true not only for patients at risk of these complications but the overall hepatitis B patient population as demonstrated in clinical studies comparing TAF and TDF. By removing Vemlidy from the formulary plan, CVS Caremark is implementing a significant barrier to thousands of Americans who may need and/or rely on this drug to manage their hepatitis B….We are not advocating that all hepatitis B patients have to be treated with TAF. We believe that this decision should be made by the patient's doctor with the patient."
What Does This Mean: 
Now that Vemlidy has been removed from Caremark's list of covered treatments, those living with chronic hepatitis B will either have to pay the full price or switch to another medication. To put this into perspective, the average retail price of Vemlidy is $1,350 USD a month. The average cash price reached $1,650 USD in July. There is no generic version of the drug. Like other hepatitis B treatments, Vemlidy must be taken daily over the course of several years to be effective; an individual paying the average retail price would have to pay approximately $16,200 a year to access their medication.
Others will be forced to change from Vemlidy to a similar treatment that is cheaper, but may be less effective with safety issues. This practice is known as non-medical switching: when insurers or PBMs make changes to a formulary primarily due to financial negotiations with manufacturers, in exchange for greater market share.
According to the Alliance for Patient Access, non-medical switching is associated with poor health outcomes. One of their recent studies found that patients who had been switched off their preferred medication experienced complications from the new medication. One in 10 reported being hospitalized for complications after the switch, approximately 40% stopped taking their medication completely, and 60% reported side effects from the new medication. These complications are extremely dangerous for individuals taking hepatitis B medication, as stopping suddenly and without consulting an expert can cause the virus to flare and increase the risk of liver disease, and liver cancer.
Taking Action
Hep B United (HBU) – a program of the Hepatitis B Foundation and a national coalition of over 40 organizations – has started a petition and will be sending a letter to CVS Caremark.
Individuals can ask CVS Caremark to reinstate Vemlidy by signing this petition! Organizations can add their names to HBU's official letter commenting on Caremark's decision. We hope that CVS Caremark will honor their commitment to the health of Americans and add Vemlidy back on their formularies!