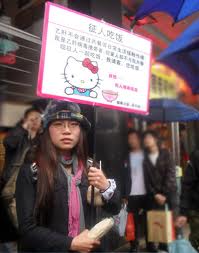 I have been active in the HBV community for over twelve years, and during this time and I have been fortunate to make the acquaintance of some wonderful people, many who I consider good friends.  The story below was relayed to me by a friend, though it's possible you may have seen it in the Chinese news.
This is a story about a very brave, Chinese girl with hepatitis B.  She studied in Japan, got her Masters, and married a PhD from China. Last year, she took all her savings, about 10,000 Yuan, with the blessing of her husband who was finishing his thesis in Japan, and went back to China. For the next twelve months, she traveled to major cities in China, all by herself.
At each stop, she held up a placard with a sign inviting passersby to have dinner with her, a person with hepatitis B, and that she would pay for the dinners – You eat, I pay. Of course, she repeated her story to the media to emphasize that it is safe to eat with a person that has HBV. A few nights ago, she appeared on CCTV, with another young hero, and they demonstrated how shaking hands with a person with HBV will not pass on the virus.  There was instant testing of the cloths wiping the hands of the infected women. Of course, they tested their saliva too, since Chinese people use chopsticks, and pick food from common plates. All this was presented in front of a live audience, and millions of viewers at home. It brought tears to my eyes.
The original graduate from Japan has stopped touring and is now making a documentary. Her husband left Japan on a boat to return to China, the day before the earthquake struck.  He is now home with his wife.
However the baton is taken up by another young Chinese lady, with the support of the other activist, and the tour is on again.
The actions taken by these young, Chinese activists are inspiring, and are true acts of bravery – especially in a country like China, where HBV discrimination is rampant.  Perhaps we are not all comfortable going public with our information, but we can all work behind the scenes, and help raise global, HBV awareness.  Tell us your story, or share it on the World Hepatitis Alliance Wall of Stories.