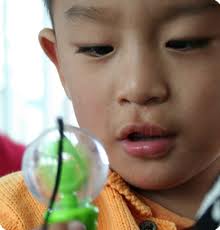 We are very pleased to share a very special update on the status of William, a waiting child  living with chronic hepatitis B, who captured the hearts of the Hepatitis B Foundation staff. This update comes from Nathalie, Adoption Advocacy Director at An Orphan's Wish…
"I am thrilled to report that William is in the process of being adopted by his forever family, where he will join his new, wonderful Mom and Dad and his two-new sisters. William's youngest sister is also adopted from China. When William's mother contacted An Orphan's Wish to inquire about him, she had some questions about the implications of daily living with an HBV positive child, and how it affects the child's life and the life of other family members. The information the Hepatitis B Foundation provided was extremely helpful in answering the family's questions, and in providing them with enough knowledge to ask informed questions of health care providers. Information provided by the Hepatitis B Foundation allowed this prospective family to have peace of mind about William's hepatitis B diagnosis, realizing that it is a manageable chronic condition. This enabled them to focus on the specifics of William rather than his HBV. William's family very quickly responded with more questions for me about his personality, his likes and his dislikes, his dreams and his hopes, rather than focusing on his HBV. They were adopting a son they were thrilled to parent, and thought little of his HBV diagnosis.
As an adoption advocate, the information provided by the Hepatitis B Foundation has been invaluable in educating me about hepatitis B, and HBV positive children. I feel that I have a much better understanding of this chronic condition, and I am in a much better position to answer questions from families considering the adoption of an HBV positive child. I will continue to refer families inquiring about hepatitis B positive children to the Hepatitis B Foundation. They are a wonderful resource! "
Nathalie
The Hepatitis B Foundation wishes only the best for William, his new family, adoption advocates like Nathalie, and all of the children out there who are waiting, living with HBV.