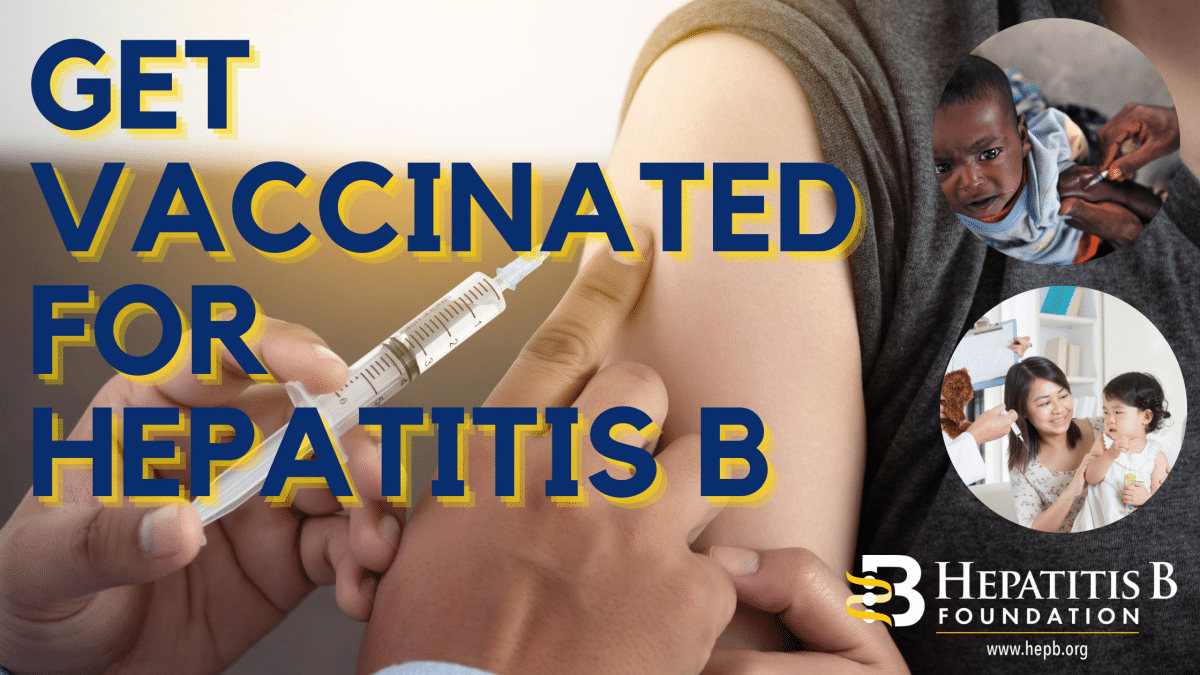 August marks the start of National Immunization Awareness Month! This month highlights the importance of vaccines for people of all ages. Let's talk about why you should get vaccinated for hepatitis B.
Understanding Your Status
Before becoming vaccinated for hepatitis B, it is important to understand your status. You can test through a simple triple panel blood test for HBsAg, HBcAb total and HBsAb. This will tell you if you have a current infection, have recovered from a past infection and if you need to be vaccinated. More details about the blood tests can be found here. Many people with hepatitis B do not look or feel sick so it is important to get tested. Learning your status early can help manage your hepatitis B and identify at-risk close contacts (household/family members or sexual partners) who can then be vaccinated and protected against hepatitis B.
 Why You Should Be Vaccinated
The hepatitis B vaccine is the first anti-cancer vaccine because it successfully prevents a hepatitis B infection which is the leading cause of liver cancer worldwide. It's important for people to receive the vaccine since most people with hepatitis B are not aware they are infected. Hepatitis B is known as a silent infection as many people can live with hepatitis B for years without knowing they are infected. With chronic hepatitis B, when symptoms do finally present, often the infection may have already caused severe liver damage. The hepatitis B vaccine can prevent hepatitis B and also the health consequences that can come from hepatitis B, including the increased risk for cirrhosis, liver failure and liver cancer
It is especially important for future mothers to be tested for hepatitis B and vaccinated if needed. Mothers can easily pass hepatitis B to their infant during childbirth through either vaginal delivery or c-section. The most common mode of transmission of hepatitis B is from mother to child, so administering the vaccine to infants at birth is one of the most effective ways to reduce the number of hepatitis B cases worldwide. Read more about preventing perinatal transmission both in the U.S. and internationally.
In fact, it is very important to vaccinate children, starting with a birth dose, because greater than 90% of acute (short-term infection lasting less than 6 months) cases in infants and up to 50% of infected young children of hepatitis B will progress to chronic (lasting a lifetime) infections while only 5%-10% of adult cases will become chronic. That said, vaccination rates in adults are low and due to the nature of hep B, even those who recover from infection are at risk of reactivation. Left untreated, chronic infections can harm your liver and cause poor health outcomes. That is why the Hepatitis B Foundation calls for universal testing for hepatitis B. Luckily, you can expect to live a long and healthy life when you manage chronic infections of hepatitis B. Learn more about hepatitis B management here.
In the United States, you can get the vaccine through your healthcare provider or health clinics. Ask your doctor if you can get vaccinated today!
Hepatitis B is a preventable virus so why not take steps to become a healthier you!
About the Hepatitis B Vaccine
Hepatitis B can cause long-term serious damage to the liver like cirrhosis, fibrosis, and liver cancer. Fortunately, a safe and effective vaccine exists which can prevent a hepatitis B infection in all persons.
The World Health Organization recommends the vaccine for infants at birth and children up to age 18. Additionally, the WHO recommends high-risk groups become vaccinated for hepatitis B such as:
Pregnant women
People who frequently require blood to blood products
People who inject drugs
People in prison
Household and sexual contact of people with chronic HBV
Healthcare workers with blood to blood contact
People with multiple sexual partners
Travellers without completion of their vaccine series to endemic areas.
The WHO recommends that infants receive the vaccine within 24 hours of birth followed up with two additional doses. Children up to the age of 18 can also receive this series if they either were not vaccinated for hepatitis B at birth or did not complete the series. The series should be as followed:
1st Dose: Anytime, but for infants, it should be administered at birth
2nd Dose: One month (28 days) after the first dose
3rd Dose: 4 months (16 weeks) after the 1st shot (and at least 2 months after the 2nd shot). Infants should be a minimum of 24 weeks old at the time of the 3rd shot.
Find out more about the vaccine schedule here!
You do not need to restart the hepatitis B vaccine series if you miss any of the shots.
In November 2017, a vaccine was approved by the FDA for use in the U.S. Heplisav-B (Dynavax) is a two-dose vaccine approved for use in adults aged 18 and older. The vaccine is administered as two doses given one month apart.
Ask your doctor about the 2-dose vaccine. You can now find Heplisav-B at more than 1,700 Albertsons Companies' store pharmacies across the US. For assistance accessing this vaccine, you can contact Heplisav-B's Access Navigator at 1-844-375-4728. 
For more information on the hepatitis B vaccine, read here.