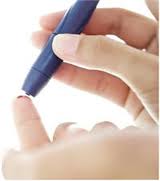 What's new in the world of HBV lately?  Perhaps the biggest HBV story over the last week is the Advisory Committee on Immunization Practices (ACIP) strong recommendation for those with diabetes under the age of 60 years to be vaccinated against HBV.  Diabetics under the age of 60 have twice risk of acquiring HBV than those without. The recommendations for vaccination apply to those with type 1 or type 2 diabetes. The sooner those living with diabetes are vaccinated, the better.
Those living in long-term care facilities that require assisted glucose monitoring are also at greater risk for HBV.  This increased risk occurs during the monitoring process, where the accidental re-use of lancets and needles may occur from one patient to another. It is imperative that infection control practices be strictly followed in this environment to prevent small, HBV outbreaks among the elderly in long-term care facilities. HBV vaccination is not recommended for the majority of those over age 60 because the HBV vaccine is not as effective in the frail and elderly population. The earlier in life one is vaccinated against HBV, the better.
Speak up and make sure your loved-one living in long term care and living with diabetes and/or HBV has a personal glucose meter, or that proper infection control practices are being followed at their long-term care facility.
Diabetes and hepatitis B are each challenging chronic conditions to manage alone, but in combination, they can be very complicated. If you are a diabetic with HBV, it is essential that you follow the recommendations provided by both treating physicians (for both diabetes and HBV), and that both are in synch with one another.  It comes down to you faithfully adhering to all medications prescribed, strict monitoring of both your diabetes and your HBV status as dictated by your doctor(s), and following all recommended lifestyle changes.  Be sure to keep your doctor apprised on new issues that may come up as a diabetic with HBV.
If you have HBV, and do not have diabetes, but have a family history of diabetes, take precautions now. Talk to your doctor and be sure to monitor your blood pressure, cholesterol, and weight.  Maintain a healthy weight through diet and exercise.  Know that risk of type 2 diabetes increases with age, (greater than 45) and that your ethnic background may also be a risk factor. This would include Hispanics, African-Americans, Native Americans, and Asians.