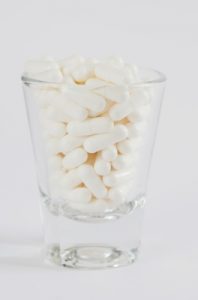 Medical guidelines suggest that individuals with HBeAg-negative hepatitis B with signs of liver damage face an "indefinite" or even lifetime commitment to taking daily antiviral pills.
In this week's blog, we explore when—if ever—individuals with hard-to-treat HBeAg-negative hepatitis B can ever stop taking antivirals.
First of all, what is HBeAg-negative hepatitis B? Many people infected with hepatitis B at birth and who remain infected into their 40s, 50s or 60s, develop HBeAg-negative hepatitis B. Researchers believe that over time the virus mutates to evade the immune system. Though individuals may have lost the hepatitis B "e" antigen (HBeAg) and developed the "e" antibody, this mutated virus develops the ability to keep replicating despite the loss of HBeAg. And this mutated virus is capable of putting people at higher risk of liver damage.
Generally, doctors recommend treatment to HBeAg-negative patients when their viral load exceeds 2,000 IU/ML and their ALT liver enzyme levels, which rise when liver cells are damaged, are even moderately elevated. (Normal ALT levels are less than 30 for men and 19 for women.)
The most common antiviral treatments are either entecavir (Baraclude) or tenofovir (Viread). These two are considered the most powerful at quickly reducing viral load (HBV DNA) and have a very low risk of causing drug resistance, which is critical considering the long-term treatment required by HBeAg-negative patients.
But can individuals with HBeAg-negative hepatitis B ever stop treatment? Antivirals are expensive, without insurance tenofovir costs about $1,000 a month and generic entecavir costs about $407 in the U.S. Additionally, long-term antiviral treatment can cause bone loss.
Late last year, hepatitis B experts with the American Association for the Study of Liver Disease (AASLD) tackled this question and reviewed recent studies that followed HBeAg-negative hepatitis B patients who stopped antivirals. They found that even when these patients enjoyed two years of undetectable viral load and normal ALT levels during treatment, when they stopped only half of them were able to maintain a low viral low (below 2,000 IU/mL) and normal ALT levels.
The risk of dangerous "flares" after stopping treatment, "requires careful weighing of potential for harm and benefit," the experts wrote. This is important because many HBeAg-negative patients are older and more vulnerable to liver damage and cancer.
In their new recommendations, AASLD experts make clear their findings are "conditional" and the quality of evidence found in the studies they reviewed is "low." However, this is what they tentatively recommend:
Stopping treatment, "may be considered in persons who have (lost) the hepatitis B surface antigen (HBsAg). However, there is currently insufficient evidence to definitively guide treatment decisions for such persons."
And, anyone who stops antiviral therapy should be monitored every three months for at least one year to see if their viral load rebounds or if they have signs of liver damage, including ALT flares.
Given the knowledge-gap about the long-term health consequences of HBeAg-negative hepatitis B, more research with longer durations of monitoring are needed, experts recommended. "Alternative treatment strategies for patients on long-term antiviral therapy, such as adding or switching to (pegylated interferon), warrant further study," they concluded.