Hepatitis B is a critical public health crisis in India.  With over 40 million HBV carriers, it is estimated that over 115,000 people die each year from hepatitis B related causes and one million newborn babies are at risk of developing hepatitis B in India. 1 
In an effort to raise awareness for hepatitis B and contribute to the World Health Organization's (WHO) viral hepatitis elimination plan, teachers and students at Amity International School in New Delhi, India launched Team Helpatitis to promote hepatitis B education.. Science teachers have integrated hepatitis B education in their extra-curricular activities to teach students about chronic hepatitis and liver health. School events and festivals have provided unique opportunities for students, teachers, and parents to come together and learn about the importance of prevention strategies like hepatitis B screenings in making India hepatitis free!  
Diwali Lamps Bring Hope and Awareness to the hepatitis B Cause in India
During the month of Diwali, a religious festival of lights, Team Helpatitis students designed liver shaped oil lamps to promote awareness. These lamps are made from clay pots and are lit every year on Diwali to represent the transition from darkness into light in the coming new year. Students and teachers hope to combat the stigma and misconceptions associated with hepatitis B though these lamps. The lamps were distributed to school students and teachers to bring home and share the important message of hope and resilience with their friends and families.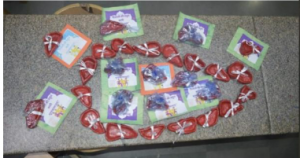 The liver shaped lamps were sculpted, packaged, and distributed by the students and teachers to raise awareness of hepatitis B during the Diwali festivities at their school.
Pin-O-Liv: Dart Throwing Competition to Understand the Difference between Good and Bad Liver Habits!
The Winter Carnival at Amity International provided a platform for students to showcase their learning outside of the classroom and educate attendees about healthy and unhealthy habits for their liver. The students chose an interactive sport to keep the players informed and entertained. They created a dartboard with pictures representing good and bad lifestyle habits and their impact on the liver. Before the game, players were briefed on liver health and ways to keep the liver healthy and safe. Players were given five darts and challenged to hit the images with unhealthy habits.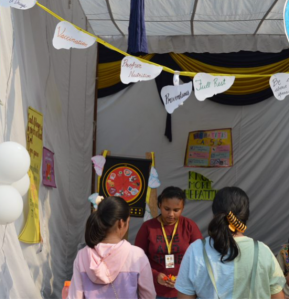 Students participate in the dart-throwing competition to "kill" the bad habits that destroy our liver
Livbola
: Students reinvent
tambola
to promote hepatitis B education among children and adult
s
Tambola is a slightly different version of Bingo and is a beloved pastime of south Asian communities. The students were given a short presentation on hepatitis B and liver cancer. They were then introduced to the rules of the game and were quizzed on questions related to hepatitis and liver health. Prizes were distributed to players to encourage participation. The players included students, school staff, and community members.
School staff, students, and parents play the Livbola game during their annual winter carnival
The Hepatitis B Foundation was recently approached by the teachers at Team Helpatitis for a live session on hepatitis B. The Foundation met with the students and teachers via zoom a few weeks ago and discussed the physical, social, and financial impact of hepatitis B.  We also discussed the importance of preventative strategies like vaccines in promoting positive health outcomes for all communities.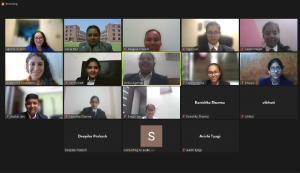 The students and teachers of Amity International School met with the Foundation for an introductory session on hepatitis B on zoom.
By participating in these activities, projects, and festivities with the help of their school's leadership and administration, Team Helpatitis has expanded their reach beyond the classroom and amplified the voices of public health workers, advocates, and people living with hepatitis B! Check out Team Helpatitis' social media channels to stay updated! 
Team Helpatitis' Instagram:  https://www.instagram.com/helpatitis_aisv1_yppteam/ 
References: 
chrome extension://efaidnbmnnnibpcajpcglclefindmkaj/https://www.who.int/docs/default-source/searo/india/health-topic-pdf/factsheet-b-hepatitisday2016.pdf?sfvrsn=da61ef0_2#:~:text=In%20India%2C%20the%20prevalence%20of,D%2C%20followed%20by%20Aand%20C. 
Premkumar, M., & Kumar Chawla, Y. (2021). Chronic Hepatitis B: Challenges and Successes in India. Clinical liver disease, 18(3), 111–116. https://doi.org/10.1002/cld.1125