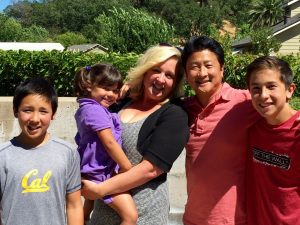 In an innovative storytelling initiative, people living with chronic hepatitis B open their hearts and share their stories of family secrets, stigma and diagnoses that came too late as they confront the impact of hepatitis B on themselves and the people they love.
The Hepatitis B Foundation, working with StoryCenter, has created unique video stories that share the experiences of people affected by hepatitis B, which affects one-third of the world's population. The video stories, which debut May 1 in recognition of Hepatitis Awareness Month, are designed to raise awareness about the liver disease that affects 2 million in the U.S.
There is no better way to understand the human toll hepatitis B takes than to hear directly from those affected. Most people know very little about this disease and up to 75 percent of people living with hepatitis B don't know they're infected. The hope is that these stories will put a human face on this infection and help improve testing, vaccination and treatment.
One storytelling video, featuring former ABC 7 News anchor Alan Wang of Berkeley, CA, talks about how doctors fail to test people for hepatitis B. It was after the CEO of Newsworthy Media suffered liver damage that a doctor tested him for hepatitis B. "It was only because I (had) a medical reporter friend who connected me to a leading hepatologist that I got the attention I needed," Wang, 49, explains in his story. After his diagnosis, he encouraged family members to be tested and his mother and siblings were also found to be infected by the disease that is easily transmitted at birth.

"We were left to connect the dots because the medical profession is failing to address an epidemic that kills more than 700,000 people a year," he explained. "It's bad enough that hepatitis B is a silent killer with few symptoms until it's too late. It's also ignored by Asian cultures that consider talk about deadly diseases to be taboo."
While a safe and effective vaccine that prevents hepatitis B has been available since 1982, many Americans did not have access to the vaccine. John Ellis Jr., another hepatitis B storyteller who lives in Pensacola, FL, was diagnosed with chronic hepatitis B at age 16. He, like many people living with hepatitis B, does not know how he became infected.
"When I was first diagnosed, I was shocked the doctor couldn't tell me how I contracted it, as if finding out how I contracted hepatitis B would somehow cure me of it. As I grow older, what's most important to me is maintaining my health." Ellis explains in his story that he wants to be, "bigger than his diagnosis." He does not want hepatitis to hold him back or define him. He is an entrepreneur and he has organized a charity bike ride to raise awareness and funding for research.
Another featured storyteller is pharmacist Bunmi Daramaja, of Elkridge, MD, who grew up in Nigeria and emigrated to the U.S. She struggled with her family's reluctance to discuss her father's death from liver cancer, resulting from chronic hepatitis B.
"Stigma is everywhere (in my African culture)," she explained in her story. "People don't think about the facts of how the virus is transmitted– they are afraid to even touch someone who has it. Many people don't even want to get tested, because treatment is either not available or costs too much money. They say, 'What's the point?' This needs to change.
"In the U.S., the services are here, and I want to make sure that people of African origin know there are resources. I want to end this silence," she explained.
The Hepatitis B Foundation's Storytelling page helps tell the story about an infection in the U.S. that is under-diagnosed, under-treated and remains stigmatized across America.