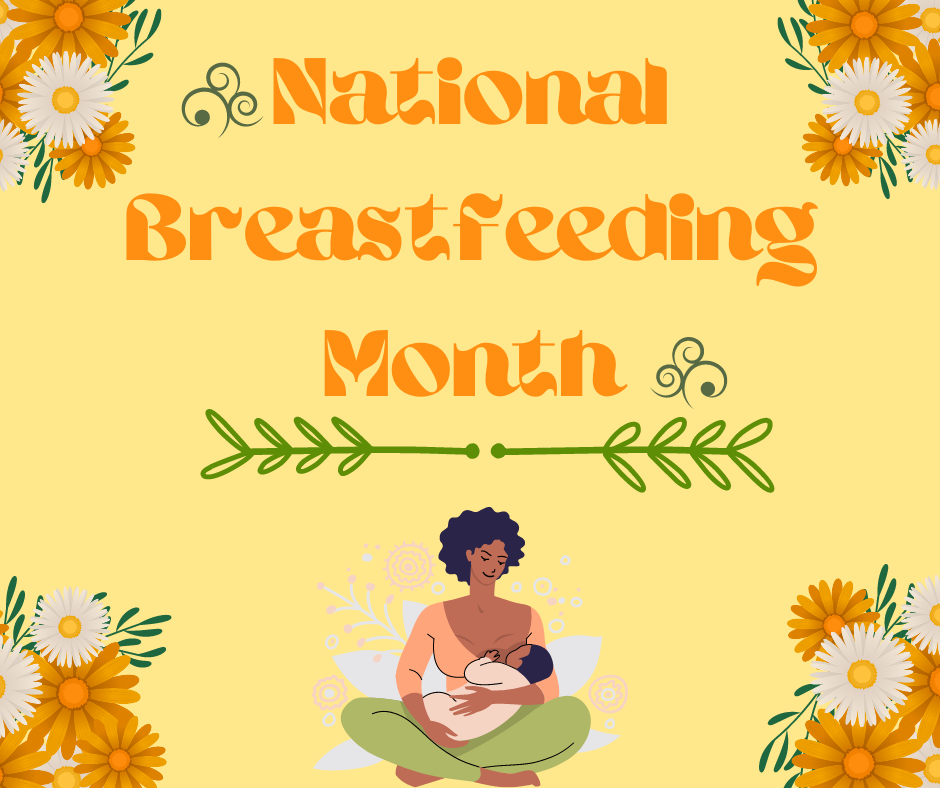 Every year, the first week of August celebrates World Breastfeeding week. World Breastfeeding week highlights the importance of breastfeeding and its benefits including nutrition, food security, child development, and the reduction of inequalities.  
Breastfeeding is a widespread practice found across cultures and borders. Considered to be the best food choice for babies, breast milk is full of essential nutrients to help babies fight off infections. It also lowers the risk of developing serious health problems like asthma, obesity, type 1 diabetes, and sudden infant death syndrome (SIDS). Breastfeeding also helps the mother bond with the child and supports the baby's emotional health. Not only that, but mothers who breastfeed reduce their risk of developing high blood pressure, type 2 diabetes, ovarian cancer, and breast cancer. It is encouraged for mothers to breastfeed their child exclusively for six months.  
However, it is important to consider that breastfeeding may not be the best option for everyone. There are many reasons why a woman may choose not to breastfeed her child including: health issues, lack of support, lack of time, short parental leave, and poor mental health. Formula can be a great, healthy, alternative to breastfeeding when breastfeeding is not possible.  
Globally, 300 million people are living with hepatitis B, and many do not know their status. Hepatitis B is a virus that infects the liver and damages healthy tissues and cells. This makes it more difficult for your liver to do its job of making sure your body is free of toxins and breaking down food so you can use it for energy. Globally, hepatitis B is most commonly transmitted from mother to child due to the blood exchange during childbirth, but may also spread through the following routes: 
Sharing needles or unclean objects like razors and toothbrushes

 

Unsafe tattoo or piercing procedures

 

Unprotected sex

 
Learn more about transmission here!  
While some health issues can prevent women from breastfeeding their baby due to the fear of passing the disease or illness to their child, this is not the case with hepatitis B. Women living with hepatitis B can safely breastfeed their baby and are encouraged to breastfeed.  
Also, to prevent mother to child transmission of hepatitis B it is important to make sure the child receives the first dose of hepatitis B vaccine called the hepatitis B birth dose within the first 24 hours of birth. An extra step towards prevention can also be taken for mothers who have hepatitis B infection, which includes giving their baby the hepatitis B birth dose and hepatitis B immune globulin (HBIG) within the first 24 hours of birth. HBIG is not always available in every country and might be difficult to get. If it is not possible to get HBIG, be sure your child gets the hepatitis B birth dose within the first 24 hours of delivery to prevent transmission. HBIG is a shot that helps to protect your baby from developing hepatitis B by teaching the body to fight off the infection. The vaccine or birth dose is safe, effective, and provides a lifetime of protection to babies, so they do not get hepatitis B in the future. The birth dose is given in 3 doses and follows the schedule below:  
1

st

dose- given right after birth but within 24 hours

 

2

nd

dose- given in at one month of age

 

3

rd

dose- given when the baby is 6 months old

 
The infant hepatitis B vaccine schedule can vary depending on where you live – you can see the schedules here. 
You can learn more about the hepatitis B vaccine here!  
It should be noted that until a baby completes their hepatitis B vaccination series, if the nipples are chapped, cracked, or bleeding, it is best to avoid breastfeeding until the nipples are completely healed. Because hepatitis B is transmitted by blood-to-blood contact, there is a small risk of transmission to unvaccinated babies if the nipples are bleeding. During this time, it can be beneficial to seek guidance from a lactation consultant and switch to a different feeding method (formula or donor human milk).  
It is safe to breastfeed if you are living with hepatitis B, you will not transmit hepatitis B to your infant. If you still feel nervous about breastfeeding your baby, formula is the best alternative to breast milk.  
References 
https://worldbreastfeedingweek.org/  
https://www.hepb.org/treatment-and-management/pregnancy-and-hbv/breastfeeding/  
https://pubmed.ncbi.nlm.nih.gov/23383145/  
https://www.cdc.gov/breastfeeding/breastfeeding-special-circumstances/maternal-or-infant-illnesses/hepatitis.html#:~:text=Is%20it%20safe%20for%20a,within%2012%20hours%20of%20birth.