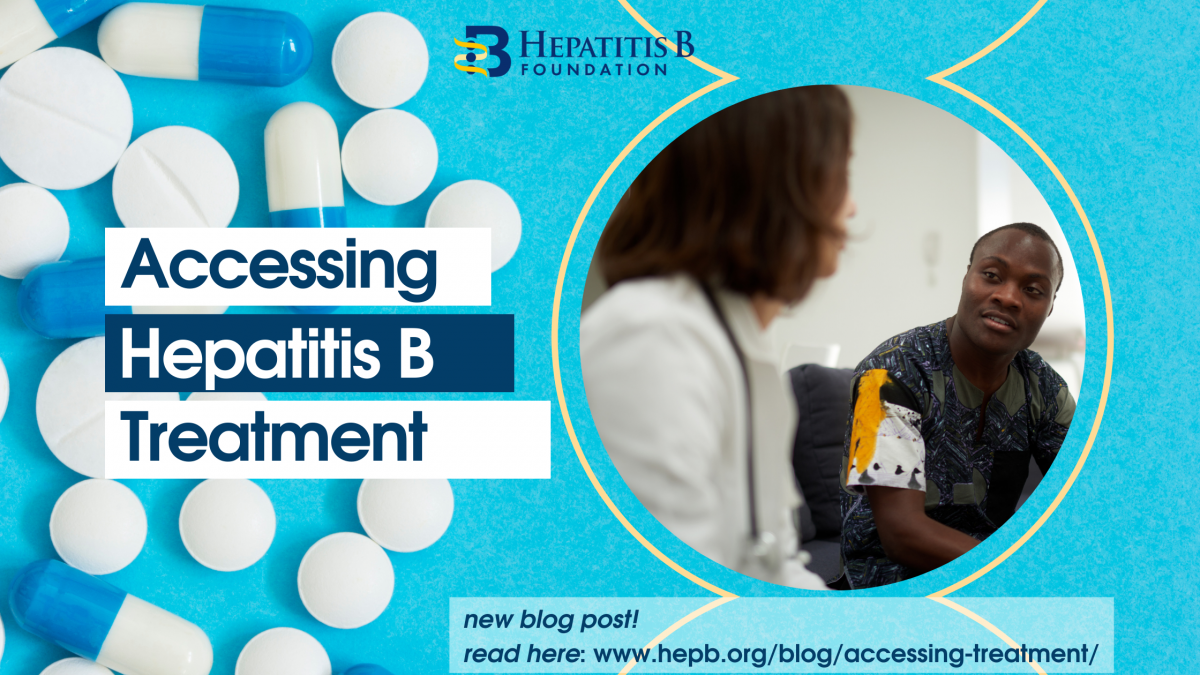 Globally, almost 300 million people are living with hepatitis B. Of these 300 million people, the highest burden is in the WHO Western Pacific region and WHO African region with 116 million people and 81 million people living with hepatitis B. 60 million people are infected in the WHO Eastern Mediterranean Region, 18 million in the WHO South-East Asia Region, 14 million in the WHO European Region and 5 million in the WHO Region of the Americas.1
Of these estimated 300 million people living with hepatitis B, only 10% were diagnosed, and of those who were diagnosed, only 22% of individuals eligible for treatment received antiviral therapies.2 Moreover, only 2% of Africans living with chronic hepatitis B infection receive a diagnosis and of those individuals, 0.1% receive treatment.3
So why aren't people living with hepatitis B on treatment? Cost can be a barrier.
The Hepatitis B Foundation compiled a list of hepatitis B medications and their costs for a 30-day supply in the U.S.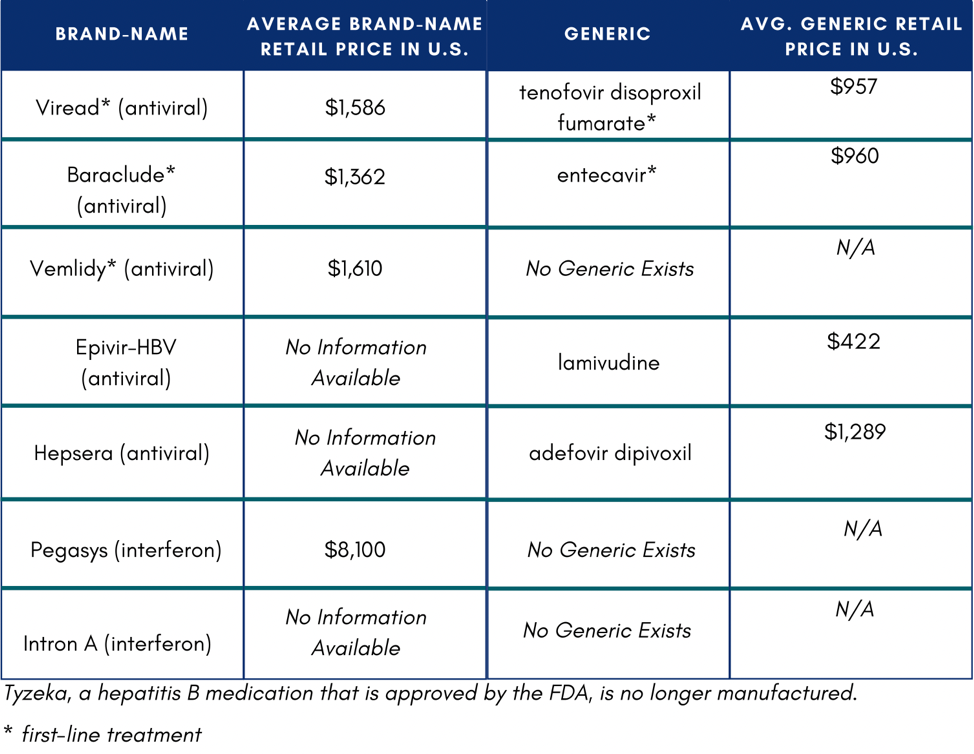 In the U.S., if someone does not have insurance or know how to access Medicaid or Medicare, they might not be able to afford medication. If they were to pay out of pocket, medication would total $11,484 on the low end of costs.4 One study reported that low household income and publicly funded health insurance were negatively associated with willingness to accept hepatitis B treatment.5
The high cost of hepatitis B management was found to be a barrier in a research study in Ghana. This study found that a typical cost of hepatitis B medication (Tenofovir), was Ghc 3600, or $670 USD annually.6 The average income is about Ghc 9,600 or $1,778 – this means the cost of hepatitis B medication would be about 38% of an average Ghanaian income.6
Another study in Burkina Faso found that cost was a barrier to access to treatment. For someone living with hepatitis B, the total cost for a full diagnosis is estimated to be $209 USD, when in 2020,5 33.7% of the population lived on less than $1.90 a day and the gross national income per capita in 2014 was $700.7 For the treatment itself, the study found that it cost $54 a year for tenofovir and $23 a year for lamivudine. One individual reported that they had to stop treatment because of the cost.6
What can be done to help with cost for hepatitis B treatment?
In the U.S., there are patient assistance programs that can help alleviate costs for some people. These special prices are offered by online pharmacies, co-pay assistance cards, or pharmaceutical companies. DiRx, a new online pharmacy,  has added two front-line medications for chronic hepatitis B infection – generic Viread® (Tenofovir) and generic Baraclude® (Entecavir) – and will be offering the medications at greatly discounted prices. Specifically, 30-count supplies of Entecavir will be $33, and Tenofovir $21, compared to the average retail price of $1,188. To access Tenofovir or Entecavir at discounted prices, patients should visit DiRxHealth.com and use promo code HBFSAVE. Any hepatitis B patient with a valid U.S. prescription will be able to order and benefit from free U.S. shipping, with no pre-qualifications and health insurance required. RxOutreach is another online pharmacy that provides reduced cost tenofovir and entecavir, and recently had a special offer for free medication for up to 12-months. For people in the U.S. taking Vemlidy, Gilead offers a patient assistance program for those who meet certain criteria. Patient Advocate Foundation and Prescription Hope offer co-pay assistance programs for eligible individuals with insurance who cannot afford their insurance co-pays.
Check out Medication Assistance Programs (U.S.)!
We must continue to bring awareness to hepatitis B. Through advocacy and continued discussion, we can improve political and government will which is most important for access to education, prevention, testing, and treatment of hepatitis B. Currently, hepatitis B is not included in The Global Fund To Fight HIV, Tuberculosis, and Malaria which offers countries like Burkina Faso and Ghana free treatment for these three diseases. We can advocate for hepatitis B to be included in this program or a viral hepatitis program like this which would help eliminate hepatitis B. Moreover, countries can use existing HIV infrastructure and incorporate hepatitis B into that space. Through cross organizational collaboration, advocacy, increasing education, and improving advocacy this can be accomplished.
The Hepatitis B Foundation is dedicated to accomplishing these efforts. We published Health Insurance Costs Impacting Shoppers Living with Hepatitis B – a comprehensive report that details our findings from analyzing 2019 and 2020 silver-level health insurance plans for potential discriminatory tiering of hepatitis B treatments. The report contains a list of things to consider when choosing health insurance plans, trends that may drive up the cost of treatment, and an overview of health insurance companies that displayed discriminatory practices. You can use the information on our site to help advocate for yourself, report your experience with discrimination on the Hepatitis B Foundation's Discrimination Registry, or contact the Hepatitis B Foundation at discrimination@hepb.org.
References
Web Annex 1. Key data at a glance. In: Global progress report on HIV, viral hepatitis and sexually transmitted infections, 2021. Accountability for the global health sector strategies 2016–2021: actions for impact. Geneva: World Health Organization; 2021. Licence: CC BY-NC-SA 3.0 IGO.
Polaris Observatory Collaborators (2018). Global prevalence, treatment, and prevention of hepatitis B virus infection in 2016: a modelling study. The lancet. Gastroenterology & hepatology, 3(6), 383–403. https://doi.org/10.1016/S2468-1253(18)30056-6
Adjei CA, Stutterheim SE, Naab F, Ruiter RAC (2019) Barriers to chronic Hepatitis B treatment and care in Ghana: A qualitative study with people with Hepatitis B and healthcare providers. PLoS ONE 14(12): e0225830. https://doi.org/10.1371/journal.pone.0225830
Mukhtar, N. A., Evon, D. M., Yim, C., Lok, A. S., Lisha, N., Lisker-Melman, M., Hassan, M., Janssen, H., & Khalili, M. (2021). Patient Knowledge, Beliefs and Barriers to Hepatitis B Care: Results of a Multicenter, Multiethnic Patient Survey. Digestive diseases and sciences, 66(2), 434–441. https://doi.org/10.1007/s10620-020-06224-3
Giles-Vernick, T., Hejoaka, F., Sanou, A., Shimakawa, Y., Bamba, I., & Traoré, A. (2016). Barriers to Linkage to Care for Hepatitis B Virus Infection: A Qualitative Analysis in Burkina Faso, West Africa. The American journal of tropical medicine and hygiene, 95(6), 1368–1375. https://doi.org/10.4269/ajtmh.16-0398