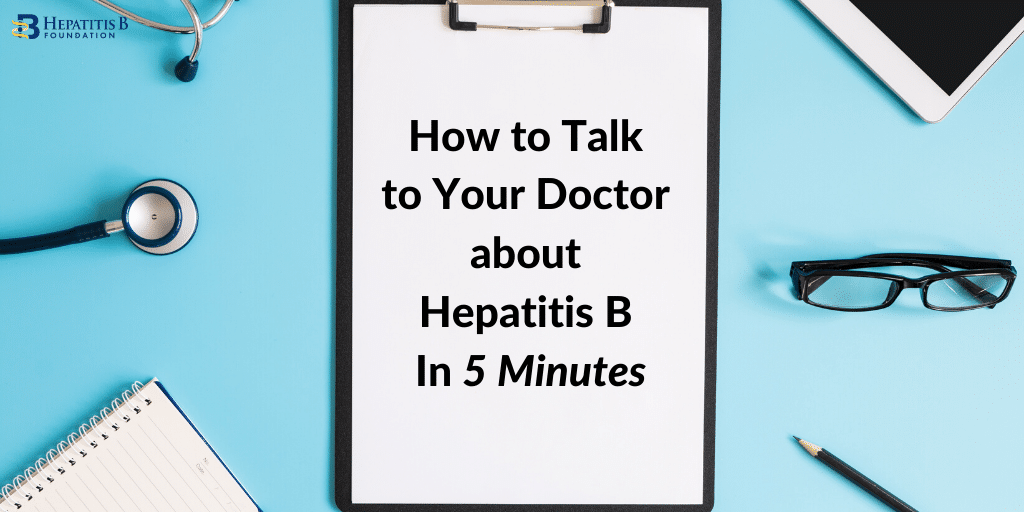 Going to the doctor can be an intimidating experience for anyone, but perhaps even more so when you're living with hepatitis B. You have plenty of questions to ask and not enough time! This guide can help you focus on the important questions and become more comfortable discussing your infection with your doctor. 
Be Prepared:

With only a limited amount of time to discuss concerns, it is essential to ask what matters most. Write down questions that you have been wondering about in order from most urgent to least. This will ensure that you get the answers that you need the most before you run out of time. We have a

list of helpful questions

that you can take, or they can help you create your own! You can also take a second person along to take notes and help ask follow-up questions. It may be helpful to organize your questions, previous test results, and any notes that you may have in a single folder to take along with you.
Do Your Research:

Hepatitis B is a complex virus and its lack of symptoms can make it tricky to grasp what is going on inside of your body.  Familiarizing yourself with hepatitis B

blood test results

,

liver enzyme tests, or liver function tests

and being aware of test results out of normal ranges can go a long way in helping you understand your own body, and to figure out what questions you should ask. Remember to always get copies of all of your test results so you can monitor how they change over time. If something is abnormal, you can address it immediately. 
Be sure you are doing your research on trustworthy websites! Misinformation can be damaging, so it is extremely important to find information that is based upon scientific evidence. How do you know if the information is trustworthy? Some common tips are to look for information from trusted institutions, such as a government health department like the Centers for Disease Control and Prevention (CDC) or established organizations like the American Association for the Study of Liver Diseases (AASLD). You should avoid articles that have anonymous authors, and avoid getting information directly from a website from a company that is trying to sell you something. Academic institutions are a great place to look for information, like a local university or peer-reviewed journal articles. 
Review the Guidelines:

There are several hepatitis B guidelines on how to prevent, treat, and manage hepatitis B. These are designed by medical experts to help doctors around the world make informed decisions about an individual's status, and are a great source of information. While some individuals may not qualify for treatment, you can take the guidelines to your appointment and ask the doctor to explain why or why not you are a candidate for treatment at the moment. Just be sure to highlight the parts you wish to review beforehand!

View the guidelines

here

.

 
The doctor is the expert – but so are you!:

Doctors can be extremely knowledgeable, but you are the one living in your own body! While hepatitis B often does not have symptoms, other factors can have an impact on your infection. One example is medication. Some medications may interact negatively with your liver, which can have an impact on the virus and result in serious consequences. If you notice any changes in your body after taking a new medication, you should alert your doctor to prevent potential liver damage. Your doctor and pharmacist should always be aware if you are living with (or have recovered from) hepatitis B so they can prescribe proper medications, but if an error occurs, it is important to speak up! 
Ensure you inform your doctor of any vitamins, supplements or herbal remedies you may be taking. Companies making these alternative therapies are not regulated so there may be no testing for quality and purity. You do not know what you're getting from bottle to bottle or even dose to dose! Some alternative medicines can do more harm than good to your liver. 
You should always be aware of what type of doctor you are talking to as well. Some primary care doctors may be more experienced in chronic hepatitis B management than others. Gastroenterologists and hepatologists are the experts in the liver. It is recommended that individuals living with hepatitis B see a hepatologist but if this is not possible, a knowledgeable primary care doctor should be able to monitor you. If you feel that the doctor you are seeing is not experienced in managing hepatitis B, do not hesitate to ask them to review the official management guidelines with you, or to switch doctors. Your health is valuable and should be treated as such! 
When To See the Doctor Immediately
In some cases, those living with chronic hepatitis B can experience symptoms such as jaundice (yellowing of the skin or eyes), ascites (fluid in the abdomen that gives it a hard, round appearance), or severe vomiting and diarrhea. If any of these symptoms occur, it is extremely important to get to a doctor or healthcare professional as soon as possible. Severe symptoms indicate that immediate blood work is needed to prevent severe liver damage or liver failure. Remember that liver disease and liver cancer are both manageable if diagnosed early and monitored regularly, so it is important to attend regular doctor appointments, keep a clear record of your medical history, and become your own health advocate by empowering yourself with knowledge and getting involved in your care!