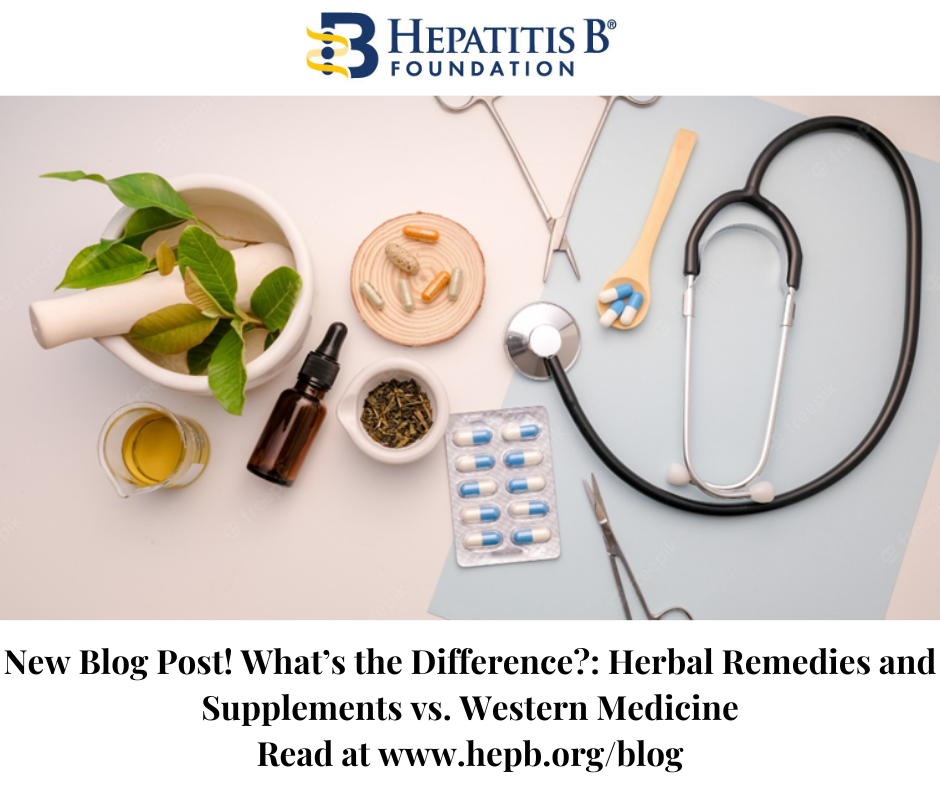 What's the Difference?: Herbal Remedies and Supplements vs. Western Medicine
Around the world, people consider the use of herbal remedies or supplements as a natural treatment for hepatitis B and/or D infection. These natural remedies have historically been advertised to boost the immune system and improve liver health. Herbal remedies or supplements are described as products made from botanicals or plants used to treat diseases and maintain health. They can be produced in a variety of forms including liquid extracts, teas, tablets/capsules, bath salts, oils, and ointments4.
Why do people choose to use herbal remedies?
The use of these products over time has social-cultural influences related to the distrust of and unfamiliarity with western medicine for management of hepatitis B or D infection. While herbal remedies have been used widely across cultures and contexts, patterns of racism, medical mistreatment, and inadequate delivery of care in western medicine have influenced the present state of treatment practices. In response to these barriers to sensitive and effective health care delivery, many groups such as Hmong and African communities often rely on herbal remedies and supplements to treat medical conditions and ease suffering.
Silymarin, milk thistle, and Kampo medicine
The distrust of western medicine has contributed to more widespread use of supplements such as silymarin (milk thistle) and Kampo medicine, as alternatives to manage hepatitis B or D infection. Many people believe that Silymarin can improve liver health through its antioxidant and free radical-fighting properties. Traditional Kampo medicine has been used for over 2,000 years to treat a variety of diseases including hepatitis B. One herbal treatment that is frequently used is bupleurum which many people believe can protect the liver or heal liver damage. Despite possible liver health benefits, neither supplement is a treatment for hepatitis B or D and may sometimes cause further harm to the liver4. It is important to note that there is presently no cure for hepatitis B.
False claims and bad interactions
Additionally, several alternative medicine companies often make false claims and testimonials to convince people to purchase expensive alternative treatments with false promises that are not based on scientific evidence. Herbal remedies and supplements may also interact with certain medications prescribed for those with hepatitis B and D, so it is important to seek the advice of a health care professional before use of any of these products3,4.
Strides in western health care
The long-standing hesitancy to participate in western health care is well-reasoned and firmly rooted in past wrongdoing on the part of often fundamentally racist institutions. While the western health care system remains far from perfect, it is important to remember that many strides continue to be made to correct the misdeeds of the past, and conversations around health equity and the social determinants of health (including racism) are becoming more and more common. Meanwhile, research has found that beliefs and misconceptions around western medicine can delay care and increase morbidity rates of hepatitis B in high-risk communities2.
It is vital for those living with hepatitis B or D to stay informed with scientific knowledge about supplements and herbal treatments to ensure these products are effective and safe in their daily life. The coordination of hepatitis B and D care by providers must do better to support those impacted by the viruses, in a way that is culturally sensitive and not dismissive of the harm that has been inflicted on communities of color and immigrant communities, who are more likely to be affected by hepatitis B and D1.  Health care professionals and other service providers must continually work to improve their cultural humility. In addition, health care institutions practicing western medicine must work harder to ensure care is equitable and safe, and to center the voices, stories, and insights of community members in their work to repair the impacts of structural racism and medical mistreatment that have caused such deep distrust in western medical treatments.
To learn more about effective hepatitis B and D medications, check out our Drug Watch page!
Disclaimer: Herbal products are not U.S. FDA-approved, and the Hepatitis B Foundation cannot endorse the usage of such products that lack regulation and scientific evidence to deem them both effective and safe.
References
El-Serag, H., McGlynn, K. A., Graham, G. N., So, S., Howell, C. D., Fang, T., … & Thiel, T. K. (2010). Achieving health equity to eliminate racial, ethnic, and socioeconomic disparities in HBV-and HCV-associated liver disease. The Journal of Family Practice, 59(4 Suppl), S37.
Mukhtar, N. A., Evon, D. M., Yim, C., Lok, A. S., Lisha, N., Lisker-Melman, M., … & Khalili, M. (2021). Patient knowledge, beliefs and barriers to hepatitis B Care: results of a multicenter, multiethnic patient survey. Digestive diseases and sciences, 66(2), 434-441.
National Center for Complementary and Integrative Health website. Using dietary supplements wisely. (2019). Using dietary supplements wisely. https://www.nccih.nih.gov/health/using-dietary-supplements-wisely.
US Food and Drug Administration. (2017). Information for consumers on using dietary supplements. https://www.fda.gov/food/dietary-supplements/information-consumers-using-dietary-supplements.