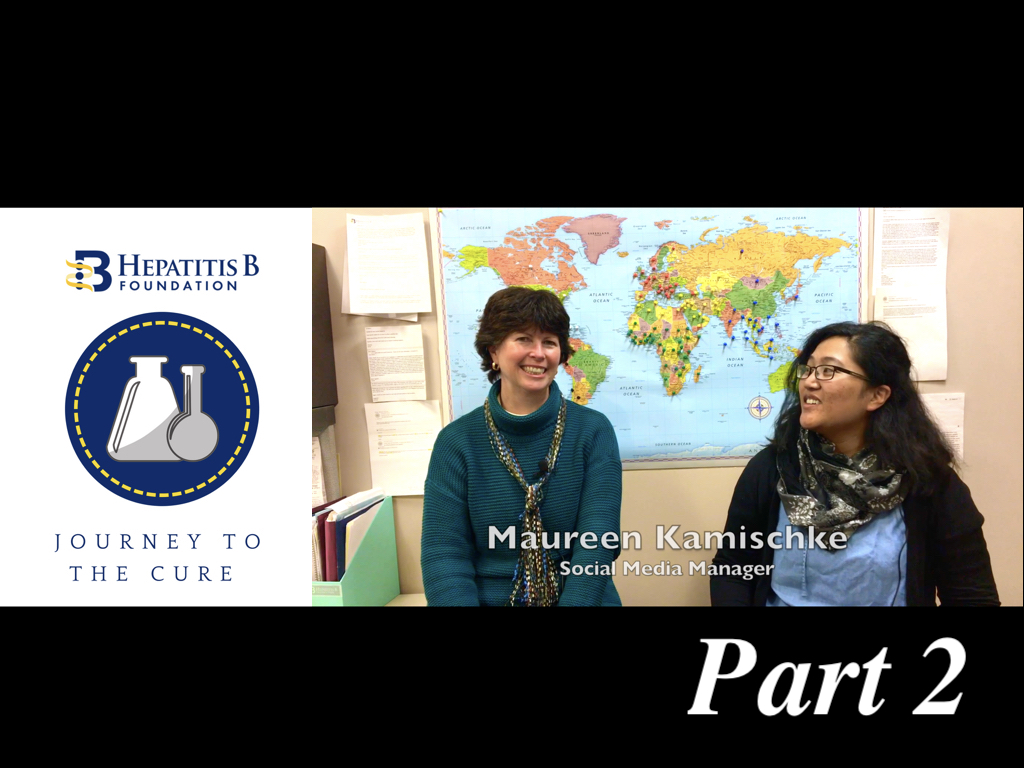 Welcome to "Journey to the Cure." This is a web series that chronicles the progress at the Hepatitis B Foundation and Baruch S. Blumberg Institute towards finding the cure for hepatitis B.
In the third episode (part 2), Kristine Alarcon, MPH sits down with Maureen Kamischke, Social Media Manager for the Hepatitis B Foundation, to talk about her social media work at the Foundation. For any questions about hepatitis B, please email info@hepb.org.
Disclaimer: The information provided in this audio post is not intended to serve as medical advice of endorsement of any product. The Hepatitis B Foundation strongly recommends each person discuss this information and their questions with a qualified health care provider.
Edited by:
Kristine Alarcon, MPH
Special thanks:
Samantha Young
Music:
Modern – iMovie Library Collection
Script:
Welcome to "Journey to the Cure!" Every month, we'll sit down with scientists from the Hepatitis B Foundationand the Baruch S. Blumberg Institute to talk to you about hepatitis B and efforts to find a cure for hepatitis B. There's still a long way to go, but we're here to walk you through our journey.
Kristine Alarcon, MPH:
You are our social media manager, and I know you have also shared your hepatitis B story. You can find Maureen's story in our #justB campaign. But, can you tell me more about your work as a social media manager?
Maureen Kamischke:
At the Foundation, we are very active on three outlets: Twitter, Facebook, and Instagram. On Twitter, we have over 6,000 followers. We have a very active Facebook community. I would really encourage people to check out these outlets. It's a great place to just check out what's going on: drugs and the status of them on a daily basis. Basically, those are being updated every day.
Kristine Alarcon, MPH:
So, why is social media so important to conveying hepatitis B information?
Maureen Kamischke:
So, I think social media is a great way to reach out to different audiences. I think it's a great way to get the messages out. You know, you can put messages out; you can link back to different parts of our website that really need to be featured and highlighted so that there are areas of what people want to learn more about; and then of course, if you are really interested in the most recent articles in hepatitis B, it's an easy enough to link out to those so that you are not doing the work for it.
Kristine Alarcon, MPH:
So, it's just like another type of way to easily disseminate information and get it more widely available to everyone.
Maureen Kamischke:
Yes.
Kristine Alarcon, MPH:
So, you've made so many connections across the globe in regard to hepatitis B partnerships, so what do you think the future looks like in the elimination of hepatitis B?
Maureen Kamischke:
Well, I would have to say that on behalf of myself and all of our friends around the world, we're all waiting for the cure, but until that time, there's a lot that we can do. We have a lot of good treatments available. There's a lot of information that needs to be disseminated. There are a lot of issues with stigma and discrimination. And hopefully, social media can help decrease the amount of stigma and discrimination by educating people, allowing them to learn more about the disease, more about the people that are living with it. It's devastating the impact of the disease that it has on people, and this is a great way to reach out to them.
Kristine Alarcon, MPH:
Thank you so much for all your efforts. Be sure to join us on our next episode of "Journey to the Cure." Just wanted to thank Maureen again for all of her time and all of her efforts in conveying such wonderful information around the world.