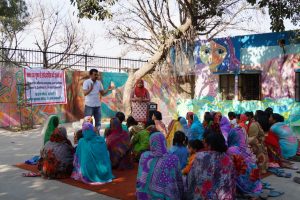 By Christine Kukka
Hepatitis B is the global pandemic no one talks about, yet one in three people worldwide has been infected. In 2013, hepatitis B and C together was the seventh-leading cause of death worldwide, with hepatitis B causing 780,000 deaths annually.
Today, 257 million people have chronic hepatitis B. Despite the availability of an effective vaccine, the number of people living with hepatitis B virus is projected to remain at the current, unacceptably high level for decades and cause 20 million deaths through 2030.
How can this happen? Viral hepatitis infection and death rates far outstrip that of ebola and zika. In fact, you have to combine the death toll from HIV and tuberculosis to find human suffering on par with what viral hepatitis causes around the world each year.How has this pandemic remained so hidden and ignored for so long? There are several factors that have kept hepatitis B off public health's global radar. It's a complicated infection, those who have it have been silenced by shame and ignorance, and more than two-thirds of those infected with hepatitis B have never been tested and don't know they have it.
And then there's avoidance by the global healthcare community. The development of a hepatitis B vaccine 40 years ago was thought to signal the death knell of this disease. While new infections have plummeted in North America and Europe, in impoverished countries, the vaccine is often not available and infected mothers continue to unknowingly infect their children at birth.
There have been successful hepatitis B immunization campaigns around the world, even in poor, remote areas, but there's a catch. The free hepatitis B pentavalent vaccine provided by the global Vaccine Alliance called GAVI is effective in children starting at age one month. To break the mother-to-child infection cycle, a different and more costly hepatitis B vaccine must be administered within 12 hours of birth. This vaccine is unavailable and out-of-reach financially in rural Africa and Asia, which is why chronic hepatitis B rates remain stubbornly high and are projected to remain unchanged.
To successfully combat hepatitis B, communities need to launch campaigns that combat stigma and teach how to prevent the spread of the disease through education and immunization. They need the resources to test people for hepatitis B and vaccinate those who need it. They also need to teach healthcare providers how to treat patients with liver damage.

But something is finally beginning to happen. On May 28, 2016, at the United Nations World Health Assembly, 194 countries made a historic commitment to eliminate viral hepatitis by 2030. The Global Health Sector Strategy for Viral Hepatitis pledges to reduce deaths from hepatitis B and C by 65 percent and increase treatment by 80 percent. This action is the greatest global commitment on viral hepatitis ever taken.
And on July 28, 2016, a campaign called NOhep, the first global movement to eliminate viral hepatitis, will be launched on World Hepatitis Day by the World Hepatitis Alliance, of which the Hepatitis B Foundation is a member.
You can be part of this global social justice movement. You can do more than just sit back, worry, and wait for a cure. Take action, speak out, and join the effort to eliminate viral hepatitis by 2030.
For more information, visit the NoHep website, the Hepatitis B Foundation website or Hep B United's website to learn how to lend your voice to this fight and help to protect your community against hepatitis B.