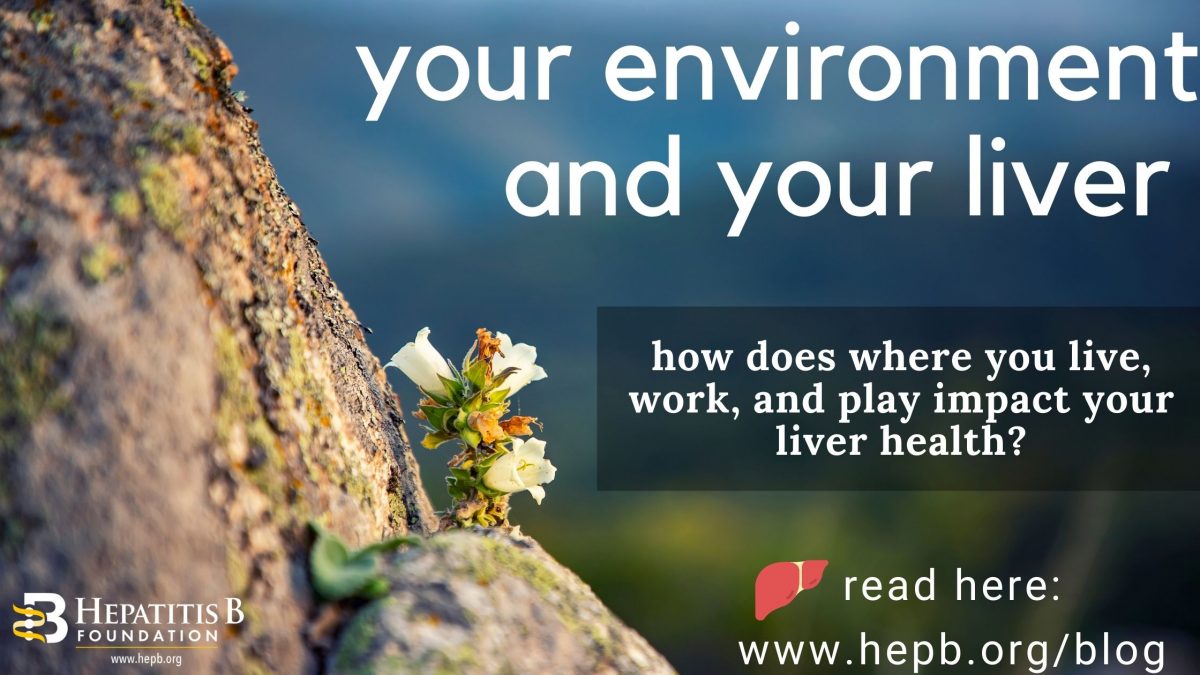 October is Liver Cancer Awareness Month! This month let's celebrate your liver for all it does for your body! This blog post will talk about how your environment, where you live, work, and play, affect your liver.
A healthy functioning liver (no advanced fibrosis/cirrhosis) is busy and effectively manages toxins daily. If your body was an automobile, your liver would be considered the engine. It does hundreds of vital things to make sure everything runs smoothly. Some of the most important functions of the liver include:
Stores vitamins, sugar, and iron to help give your body energy.
Controls the production and removal of cholesterol.
Clears your blood of waste products, drugs, and other poisonous substances.
Makes clotting factors to stop excessive bleeding after cuts or injuries.
Makes immune factors and removes bacteria from the blood to fight infection.
Releases a substance called "bile" to help digest food and absorb nutrients
How Does Lifestyle Affect My Liver?
Eating healthy for your liver is so important! The Hepatitis B Foundation encourages all people living with hepatitis B to eat a healthy diet, get regular exercise, and incorporate healthy habits in their day-to-day life. Some suggestions include:
Diet Changes
Avoid drinking alcohol and smoking since both will hurt your liver, which is already being injured by the hepatitis B virus.
Eat a healthy diet of fruit, whole grains, fish and lean meats, and a lot of vegetables. "Cruciferous vegetables" in particular — cabbage, broccoli, cauliflower — have been shown to help protect the liver against environmental chemicals.
Limit foods and drinks with added sugars including sodas, fruit juices, desserts, packaged snacks, and other foods that contain added sugar. Limit foods containing saturated fats including fatty cuts of meat and foods fried in oil.
Avoid eating raw or undercooked shellfish (e.g. clams, mussels, oysters, scallops) because they could be contaminated with a bacteria called Vibrio vulnificus, which is very toxic to the liver and could cause a lot of damage.
Check for signs of mold on nuts, maize, corn, groundnut, sorghum, and millet before using these foods. Mold is more likely to be a problem if food is stored in damp conditions and not properly sealed. If there is mold, then the food could be contaminated by "aflatoxins," which are a known risk factor for liver cancer.
Household Changes
Avoid inhaling fumes from paint, paint thinners, glue, household cleaning products, nail polish removers, and other potentially toxic chemicals that could damage your liver.
Personal Care Changes
Wearing makeup is sometimes part of our everyday life or used on occasion. We can absorb products through our skin and into the liver. Sometimes makeup products that are applied to the facial area (high absorption area) contain harmful chemicals to your liver. People living with hepatitis B should look on labels for these 4 ingredients which are toxic to your liver.
Phthalates including di-n-butyl phthalate (DBP) and di(2-ehtylhexyl) phthalate (DEHP)
Lauryl sulfate (SLS) and sodium laureth sulfate (SLES)
Diethanolamine (DEA), triethanolamine (TEA), amonoethanolamine (MEA)
Propylene / butylene glycol (PG)
Ultimately, making healthy decisions about your liver is up to you. There will always be risks associated with different things you put in or on your body; it is your choice to outweigh these risks vs. benefits for yourself.
References:
Author: Evangeline Wang
Contact Information: info@hepb.org