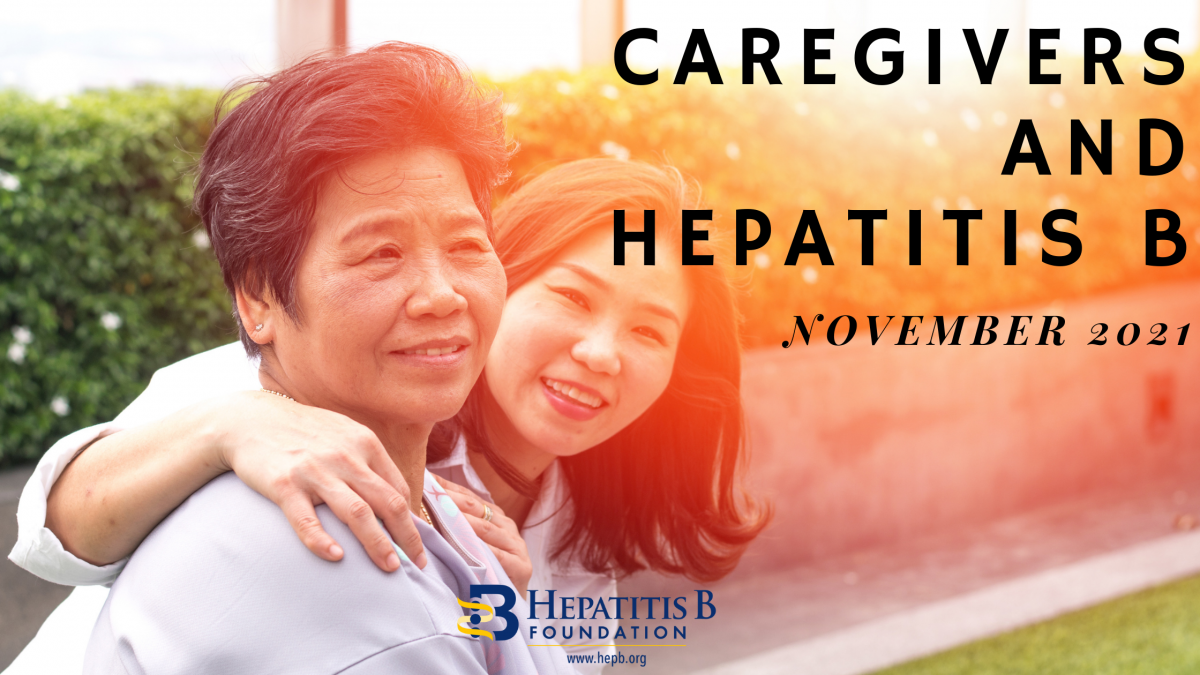 November is National Family Caregivers Month. This month we celebrate and recognize the caregivers who take care of and support their family members 24/7. People living with hepatitis B or advanced liver disease might need a caregiver. Oftentimes, family members step in and fulfill this role. Being a caregiver is a tough, but noble job. Caregivers to someone living with hepatitis B might have to manage medications, doctors' appointments, and oversee their overall health. This blog will highlight the challenges associated with caregiving and provide supportive resources.
Hepatitis B disproportionately affects Asian, Pacific Islander, and African populations. In fact, around 59% of those U.S. residents with chronic hepatitis B in the U.S. in 2018 emigrated from Asia, 19% from the Americas and 15% from Africa. It can be hard for people living with chronic hepatitis B to receive culturally appropriate care in the U.S., where English is the primary language. Caregivers of individuals living with hepatitis B might have to provide these translation services at doctors' appointments, which can be difficult to juggle for caregivers who also work and/or take care of families – and some may find it difficult to discuss sensitive health information on behalf of their loved ones.
Taking time to be with a family member at the doctors' office can sometimes be difficult, especially if the caregiver is working a full-time job. Often companies can be understanding of family obligations, but sometimes caregivers' occupations do not allow them to be at appointments, making them take time off, which can become a financial burden.
Additionally, a study in China1 "suggested that the annual direct cost for patients with chronic hepatitis B infection, compensated cirrhosis, decompensated cirrhosis or primary liver cancer were $4,552, $7,400.28, $6,936 and $10,63, respectively, which were catastrophic expenditures for the households of the patients". This financial burden can take a considerable toll on a caregiver's mental health. Caregivers often worry about the health of their family members living with hepatitis B, but and can have financial concerns regarding the cost of managing a chronic illness, and potentially lost wages.
It is normal for caregivers to experience burnout. Providing around-the-clock care can be difficult. Below are some resources for caregivers experiencing burnout.
Resources for Caregivers
Join – Join a support group. Hep B Community is a global peer-led, volunteer-driven forum to support those living with and affected by hepatitis B. They are dedicated to connecting people affected by hepatitis B with each other and with verified experts in the field, who provide trustworthy and accurate advice.
Listen – In our newest B Heppy podcast episode, Caregiving and Hepatitis B, we chat with Kim, who was a caregiver for her father living with hepatitis B. She talks about her caregiving experience and gives advice to other caregivers of people living with hepatitis B. You can listen to the episode here.
Take Time – It is important for caregivers to take time for themselves. You need to stay healthy yourself to be an effective caregiver for your family member living with hepatitis B. This can mean taking walks, meditating, setting boundaries, and practicing stress management.
Read – Does someone in your close circle have hepatitis B? Check out the CDC and Hep B United Know Hepatitis B campaign's fact sheet, "When Someone in the Family has Hepatitis B". This fact sheet has basic information about hepatitis B and the importance of testing and vaccinating family members. The fact sheet is available in 13 Asian and African languages as well as three English versions focused on Asian American, Native Hawaiian, and Pacific Islander, and African immigrants –  Download the fact sheet here.
Reference
Ren, Hong & Yu, Yan & Hu, Jia-Yu & Shi, Yang & Lu, Yihan & Meng, Wei. (2014). Caregiver burden and its determinants among family members of patients with chronic viral hepatitis in Shanghai, China: A community-based survey. BMC infectious diseases. 14. 82. 10.1186/1471-2334-14-82.
Author: Evangeline Wang
Contact Information: info@hepb.org