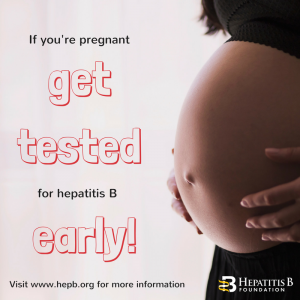 Around the world, the most common mode of hepatitis B transmission is from mother to child. Unfortunately, pregnant mothers who have hepatitis B can transmit the virus to their newborn during the delivery process. 90% of these HBV infected babies will progress to chronic infection  putting them at increased risk of serious liver disease or liver cancer later in life.
It is important that ALL pregnant women get tested for hepatitis B to prevent the transmission of the virus to newborns at birth.
The U.S. Centers for Disease Control and Prevention (CDC) recommends that all newborns born to hepatitis B positive women be given two shots in the delivery room – the first dose of hepatitis B vaccine (5 mcg dose) and one dose of hepatitis B immune globulin (HBIG, 0.5 mL dose). If a woman knows that she is infected, it is important that she tell her doctor to have these two drugs available when she is ready to deliver. These two shots must be given at separate injection sites, i.e. different limbs. When administered correctly within the first 12 hours of life, a newborn has a 95% chance of being protected against a lifelong hepatitis B infection. The infant will need to complete the hepatitis B vaccine according to schedule as part of a 3 or 4 dose series. CDC recommends follow up testing to confirm immunity or protection against HBV at 9 months or at the baby's 1 year checkup.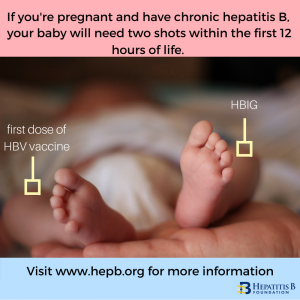 The World Health Organization (WHO) recommends the birth dose of the hepatitis B vaccine for ALL babies, though it is especially important for a baby born to a woman with hepatitis B to receive the first dose of the vaccine as soon as possible, within 24 hours. HBIG may not be available in all countries or may be cost prohibitive. The hepatitis B vaccine series may be completed with the remaining monovalent  (single) injections of the HBV vaccine, or may be completed as part of a combination vaccine series.
In developing countries combination vaccines such as the pentavalent vaccine are often given to babies. The first dose of the pentavalent vaccine (which includes hepatitis B vaccine) is given at 6 weeks of age, and the 2nd and 3rd doses are given at 10 and 14 weeks of age. Waiting for the first dose at 6 weeks is too late for babies born to mothers living with chronic hepatitis, though the pentavalent vaccine should never be used as the birth dose or before 6 weeks. Women who know they have hepatitis B should talk to their doctor about ensuring that a birth dose of the hepatitis B vaccine is available for their baby at birth.
There is no second chance!  It is vitally important that we protect all newborns from hepatitis B!
Also, all infected pregnant women need to learn more about their hepatitis B infection from a liver specialist or a doctor with experience treating patients with chronic hepatitis B. It is recommended that pregnant women have their hepatitis B monitored throughout their pregnancy, to check the health of their liver and to see if they need treatment. For HBeAg positive women with high hepatitis B viral loads, taking FDA-approved antivirals during the last trimester can reduce the amount of virus in the blood and help prevent the chance of transmission to the newborn. Once an infected woman gives birth, it is important that she routinely see her doctor to keep monitoring her hepatitis B infection. Keeping mothers healthy allows them to better take care of their families!
For more information, or if you live in the U.S. and need help with hepatitis B infection during pregnancy, please visit the Perinatal Hepatitis B Prevention Program to find a coordinator near you. If you are outside of the U.S., you may consider visiting the World Hepatitis Alliance to find if there are organizations in your country that can ensure your baby starts with a birth dose of the hepatitis B vaccine.
Visit our website for additional information!