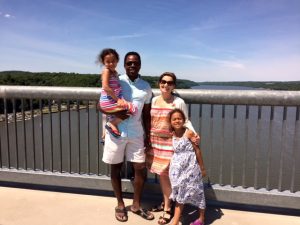 By Christine Kukka
After our daughter was diagnosed with chronic hepatitis B 20 years ago, my doctor explained that every household member, including my husband, had to be tested for the liver infection that's transmitted by direct contact with blood and body fluids. ASAP.
The good news was my daughter was healthy and had no signs of liver damage, but my husband and I were shaken to the core by her diagnosis. Weighed down by worry and ignorance, I feared we might all be infected and faced a death sentence.
I drove out to my husband's work and we went for a walk. I explained what the doctor had said and explained he had to get tested. It was one of those moments when fear and denial play out over the course of a conversation. Like everyone, he was afraid to get tested. He felt fine, at first he didn't want to know whether he was infected. For a few moments, he thought ignorance might be less painful than finding out he had hepatitis B.
And, as in most families, this disclosure wasn't easy. He had children from his first marriage who were with us every weekend and they had to be tested too. He would have to share this information with his former wife. This disclosure was going to upend two households. After a few minutes of waffling and processing, he did what courageous fathers do. He got tested and made sure his children were tested too.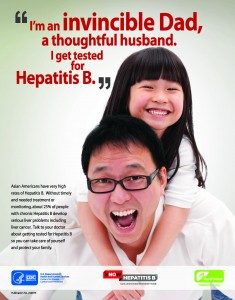 The news was all good. His children had been immunized and were fine, he was not infected and was immediately immunized. Today, we are all doing fine, including our daughter.
Every father's day, I think about that moment, when my husband refused to  retreat into denial, and put his family's health ahead of his initial impulse to hide from a frightening and messy situation. It is what being a good father is all about, and it takes courage.
For another story about hepatitis B and fatherhood, please view the Storyteller video featuring William's Story: #justB Dad by clicking here.  
Excited by the impending birth of his first child, William decided to plan for his family's financial future. He was shocked to learn through a required health insurance blood test that he had hepatitis B. He spent sleepless nights wondering how he contracted the virus and whether it was a death sentence. After wading through dense layers of information online, he went in for more tests and was reassured by a caring provider that with monitoring, dietary changes and an active lifestyle, he would live a long life.
He realized that knowing where hepatitis B came from isn't as important as focusing on staying healthy.
The CDC offers short video clips that feature a conversation between a daughter and her parents, with the daughter explaining why Asian-Americans should be tested for hepatitis B in English, Cantonese, Mandarin, Vietnamese and Korean. A high percentage of Asian and African immigrants have hepatitis B, but most don't know they are infected. To view these clips, visit: http://www.cdc.gov/knowhepatitisb/materials.htm