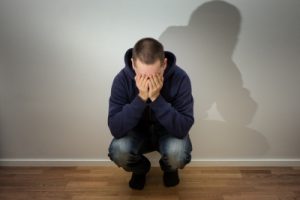 When we're first diagnosed with hepatitis B, our physical health isn't the only thing we need to focus on. Many of us experience powerful surges of fear, anger, sadness, powerlessness, depression, and anxiety.
No matter what you're feeling, you have a right to feel whatever emotions are welling up – sometimes unexpectedly – inside you. There are no right or wrong feelings, they just are, and it's up to you to decide what choices you make and how to respond to them.
When my daughter was first diagnosed, she was a toddler and happened to be coming down with a cold. I knew nothing about hepatitis B and was convinced she would soon die from it given her crankiness, lethargy, and nonstop sleeping.
Within a day or two, she was her smiling, energetic self again, and I happily slipped into denial. Surely the test was wrong or there was a mix-up in the result. My husband dragged his feet for weeks before he agreed to be screened for hepatitis B so great was his denial and fear.
Denial is a normal first reaction, it can give us some  breathing room to get used to the idea that we're infected. But denial can also be dangerous, especially if we're in a sexual relationship with someone and don't take precautions. Denial can be dangerous when we hide our infection and don't tell our family members or partners, even though they may have been exposed. Denial is dangerous when we don't tell our parents, who may not know they're infected and unknowingly passed the virus to us at birth.
It's important to talk out our feelings with a doctor, a therapist, or a friend you trust. We need to move through denial so we can begin to receive the care and support we need, and talk to others who may also be at risk.
Anger is another common and natural feeling after a diagnosis. It's OK to get upset about how we or our family members were infected, or get angry that our parents or lovers didn't know they had the virus and infected us. Try to talk about your anger with counselors or friends, get some exercise to work off your tension and avoid situations—including drugs or alcohol—that can ignite festering emotions.
It's normal to feel sad, and sometimes the sadness doesn't go away quickly. If you feel prolonged sadness, anxiety, or fear, or find you're gaining or losing weight or sleeping more or less than usual, it's time to talk to someone who can help.
Fear and anxiety are common because we don't know what's going to happen next. If you've just been diagnosed, you may have to wait six months for another test to show whether you were recently infected and have acute (short-term) or were infected as a child and have chronic (long-term) hepatitis B. That wait can be insufferable.
Our stress can cause a host of physical symptoms, ranging from headaches to fatigue, that may have nothing to do with hepatitis B. It's important to talk to your doctor about these symptoms so you know what is hepatitis B-related, and what's caused by worry and fears.
At this early stage, many of us want to get rid of the virus as soon as possible and we're willing to try any supplement or treatment available, even if our doctors tell us we're healthy and don't need any treatment. At this early diagnosis point, we just need to take care of ourselves, eat healthy foods, avoid alcohol and cigarettes, and get monitored regularly, even though what we really want is a magic pill that will make this infection go away.
In normal grief cycles, there is a point of acceptance. But I'm not sure we totally ever accept this loss of our "perfect" health, and our ability to have sexual relations, give birth, or drink a glass of wine without thinking of the shadow hepatitis B casts over these activities.
As a wise friend has pointed out, we need to accept that hepatitis B is part of us, but it doesn't have to define us. Perhaps getting to that realization is the journey we begin when we read that first lab report and hear the diagnosis.
For support and information from other people living with hepatitis B, join the Hepatitis B Information and Support Email List at  http://hblist.net