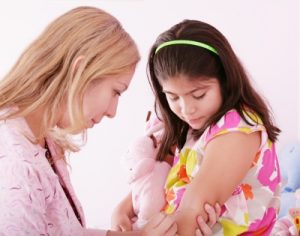 By Christine Kukka
Are you dreading taking your kids for their back-to-school vaccinations or wondering if vaccines do more harm than good? Let me tell you about my neighborhood.
Three years ago, a neighbor's children came down with whooping cough (pertussis). It turns out, the parents didn't believe in vaccinating their kids. All three children were infected as was their elderly grandmother and two other children down the street.
This family's refusal to get vaccinated against this highly-infectious respiratory disease threatened the health of the neighborhood. Two doors away, a family had a new baby and the infant's brother played with the infected children. Babies can't be vaccinated against pertussis until they're six months old.
Half of all babies who contract pertussis are hospitalized because they can't clear the heavy mucus from their lungs. Of those hospitalized, 23 percent get pneumonia and 1 percent die.  Before the pertussis vaccine became available, about 9,000 children died from the infection every year. Luckily, the baby wasn't infected in this micro-epidemic.
Here's another example why vaccines are worth the discomfort of a shot. My daughter, born in China, didn't have access to immunizations, including the birth dose of the hepatitis B vaccine. As a result, she is chronically infected with hepatitis B. Had she been born in a country that immunizes children, she wouldn't face the 15 to 25 percent risk of dying from liver disease that she faces today.
Immunizations are safe and effective, and they protect our families and our communities, which is why every child should be immunized before they start school this fall. So why doesn't everyone protect their children?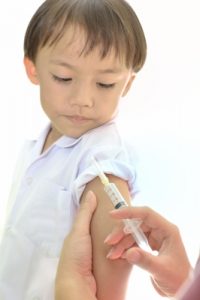 Scientist and astrophysicist Neal deGrasse Tyson has a theory about why some people don't believe science—even when it's confirmed by objective, clinical data. Examples include conservatives who disavow global warming and, Tyson pointed out, college-educated Americans who don't vaccinate their children.
In the U.S., it is college-educated parents who make up a large percentage of people who opt out of vaccination. Despite clear, scientific evidence, they believe vaccines pose a higher risk to their children than the diseases they prevent. These parents assume that because so many others immunize their children, these diseases have "gone away" and they don't have to. It's a dangerous and arrogant assumption.
Reliance on this "herd immunity" approach, which banks on enough people being immunized so the overall disease risk remains low, doesn't work. Infectious diseases really never go away, and they come back with a vengeance when a growing number of community members stop vaccinating their children.
The pertussis strain that infected the U.S. and my neighborhood two years ago was a particularly bad one. Researchers believe the vaccine wasn't 100 percent able to prevent that strain. Viruses mutate and things like this happen. But when it does, having a sizeable portion of a community not immunized acts as an accelerant to an epidemic.
There are already children and adults in every community who can't be vaccinated (even when they want to be) because of health problems, or they have weak immune systems that do not respond well to immunization, such as the elderly. Herd immunity helps these people with weak immune systems, but it loses its effectiveness when a growing number of people opt out of immunizations and endanger public health.
There is real science confirming the safety and value of immunizations:
Before the measles vaccine became available, there were 500,000 measles cases every year in the U.S. and 500 deaths. By 2000, the country had eradicated the infection.  However, in 2014 as more parents opted out of immunizations, the country experienced 667 measles cases in 27 states including an outbreak at Disneyland. Most who caught measles were not immunized.
Now let's look at hepatitis B. According to the CDC, new cases of the deadly liver infection hepatitis B have declined 82 percent since 1991, when universal childhood immunizations became available. Before that, an estimated one in 20 Americans got hepatitis B.
Immunizations have been the medical miracle of the last century. Millions of lives have been saved. In observation of National Immunization Awareness Month this August, make sure your school- or college-bound children are up-to-date with their immunizations. And while you're at it, check your own immunization record. No one is immune.