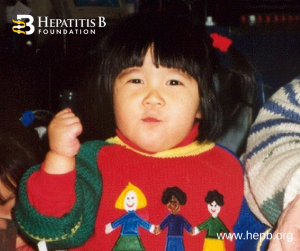 Have you been thinking about adoption for a long time or have been inspired by NBC's show, This is Us, to adopt? Adoption is exciting! However, it can be nerve wracking and feel overwhelming. We at the Hepatitis B Foundation can help with one aspect of the adoption process – making sure you have accurate information about hepatitis B.
It is important to be armed with accurate information about hepatitis B when preparing for adoption for both international and domestic adoptions. This can help protect your future child, family members and yourself when you welcome your future child with open arms.
Many people wish to adopt children from countries where hepatitis B infections are common: Asia, South America, Eastern Europe, and some parts of Africa. Children from these regions could be infected with the virus since it can be unknowingly passed from birth mothers who have hepatitis B and transmit the disease to their children during delivery. In addition, many of these countries struggle with proper infection control practices that place babies and young children at risk with unsafe medical procedures. Unfortunately, many infants still do not have access to the birth dose of the hepatitis B vaccine to help prevent transmission.
Domestic adoptions also present some risk. Children born to women in high-risk groups (e.g. illicit drug users, multiple sexual partners, etc.) could be exposed to hepatitis B at birth. In addition, children from group homes are at increased risk for hepatitis B infection. The good news is that there are procedures in place that can prevent a baby from getting infected if born to an infected mother – and the success rate is up to 95%! This includes providing the first dose of the hepatitis B vaccine along with a dose of hepatitis B immune globulin (HBIG) within 12 hours of birth. If you are planning a U.S. adoption, and know that the birth mother is infected, you can ensure that the birth hospital knows about these procedures and can administer the shots on time.
During the adoption process, the adoption agency should tell you if your child has been tested for hepatitis B, but there can be errors if the child was tested only as an infant. With an international adoption, it is advised that you do not request that your child be tested since the blood test itself could be a source of infection. If you are concerned about the results of these tests, please contact us to speak with our knowledgeable staff. We can also refer you to a parent who has adopted a child with hepatitis B. Whether your child has been diagnosed with hepatitis B or not, testing for HBV should be repeated once you're home. If needed, you can refer to our physician directory to find a pediatric specialist who knows about hepatitis B.
If you do find out that your child does have hepatitis B, you can handle it!Hepatitis B is a manageable disease. Many families seeking a "special needs adoption" choose to adopt a child with chronic hepatitis B because it is manageable and treatable. Hepatitis B is a vaccine preventable disease, so newly adopted children can be safely integrated into vaccinated families. Children with chronic HBV can expect to live a long and healthy life if they are monitored by a pediatric liver specialist. Some may need treatment during childhood, most probably won't. Hepatitis B does not affect a child's growth and development, and there are generally no restrictions associated with chronic hepatitis B. It is recommended that those with chronic hepatitis B see a pediatric liver specialist every six months for hepatitis B management. Often this entails only blood work to monitor the child's HBV and liver health. Also make sure household members are vaccinated and that you talk to talk to all of your children about the importance of handwashing and "never touching anyone's blood". When your children get older, help them acclimate to dating and disclosure. The hepatitis B vaccine is required for school in all but four states.
For some tips, you can visit our website on adoption, children with hepatitis B, and one of our previous blogs. You can also watch some adoption stories from our #justB storytelling campaign. Be sure to watch Maureen's, Maureen K's, and Jin's stories about the international adoption process with hepatitis B. You can also watch Janet and Kurt's domestic adoption process. Please consider opening your home to an adopted child. It will change your life.