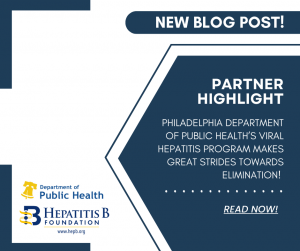 Happy Hepatitis Awareness Month! Continue reading to get to know the Viral Hepatitis Program at the Philadelphia Department of Public Health (PDPH)!  
The Viral Hepatitis Program at PDPH strives to support Philadelphia residents and service providers in several ways, including preventing viral hepatitis infection through education, screening, and vaccination; improving and providing access to affordable treatment; and supporting provider efforts to provide comprehensive viral hepatitis care/treatment. There are many tools that exist to prevent and treat viral hepatitis infections, and even cure them in the case of hepatitis C. Access to these services, however, is not readily available for everyone. The Viral Hepatitis Program aims to increase access and reduce inequities in care through collaborations and programming, in hopes of achieving the 2030 goal of hepatitis B and hepatitis C elimination.  
The Viral Hepatitis Program performs a number of exciting projects to achieve this work! 
Patient Engagement 
Many members of the Viral Hepatitis Program spend their days interacting with patients over the phone. Public health surveillance allows the program to work with hepatitis B and hepatitis C patients to provide individualized support. This outreach provides patients with viral hepatitis education, linkage-to-care, and care navigation along with access to harm reduction materials, support for substance use disorder care, and additional resources.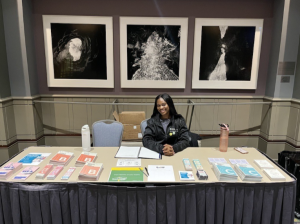 Above: Viral Hepatitis team member, Cassandra Lamadieu, provides viral hepatitis educational materials to community members in attendance at the 2023 Philadelphia Block Captain Rally. 
Philly InSync: Provider Engagement  
Through collaborations within PDPH and with a partner organization, the Philly InSync Project provides education and technical assistance to healthcare providers and facilities to integrate harm reduction, substance use disorder care, and care for infectious diseases related to drug use. Philly InSync works with multiple sites to provide testing, care, and treatment of hepatitis B, hepatitis C and other infectious disease care while also providing technical assistance including staff trainings, data improvement strategies, and reducing barriers to care. A technical advisory committee of Philadelphia providers meets quarterly to provide enhanced technical assistance to these sites while learning how to improve the care they provide as well. The program elevates conversations among Philadelphia providers and creates a collaborative community to learn, listen, and share experiences, challenges, and solutions that involve anything from clinical experiences to insurance barriers.   
Pharmacy Project: Increasing Hepatitis A & B Vaccination 
Another project to increase viral hepatitis prevention efforts is the Pharmacy Project, which is focused on improving pharmacy-based vaccination for hepatitis A & B. Annually, the Viral Hepatitis Program conducts a survey of pharmacies in Philadelphia to collect information about hepatitis A and B vaccination services. The survey results are shared with the community on a map that allows patients and providers to find vaccinating pharmacies. The data collected is also used to identify barriers to vaccine access, to inform additional activities to support patients, providers, and pharmacists.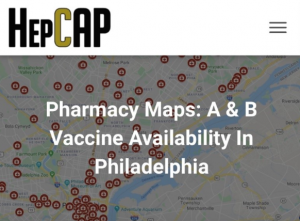 Social Media 
To engage the community and to promote collaboration, the program runs several social media accounts and provides up-to-date information and resources. To access information on vaccine events, mobile health clinics, and many other health services follow along at the links below! Make sure to follow along during the month of May for some special Hepatitis Awareness Month content!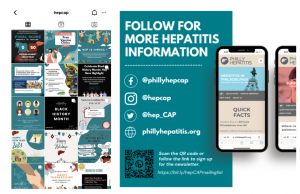 Philadelphia Hepatitis B & Hepatitis C Elimination Plan 
The Viral Hepatitis Program and local partners and community members have worked together to create a plan for the elimination of hepatitis B and hepatitis C in Philadelphia. To see information on this process visit: Philadelphia Hepatitis B & Hepatitis C Elimination Plan Community Engagement Executive Summary. Striving to eliminate the impact of these infections from Philadelphia is not a new effort, as a committed community of viral hepatitis eliminators has been hard at work for quite some time. Hep B United – Philadelphia and The Hepatitis C Allies of Philadelphia (HepCAP) are the two local coalitions made up of individuals and organizations committed to viral hepatitis elimination. While much has been accomplished, PDPH and the local community of eliminators are continuing the work to provide services to educate, prevent, vaccinate, test, link-to-care, and treat these two diseases in Philadelphia. The Plan will be released in 2023. 
To learn more about viral hepatitis or for any questions… 
Websites: Phillyhepatitis.org & Hepcap.org 
Email: hep-ddc@phila.gov 
To order educational materials: bit.ly/hepeducationalmaterials