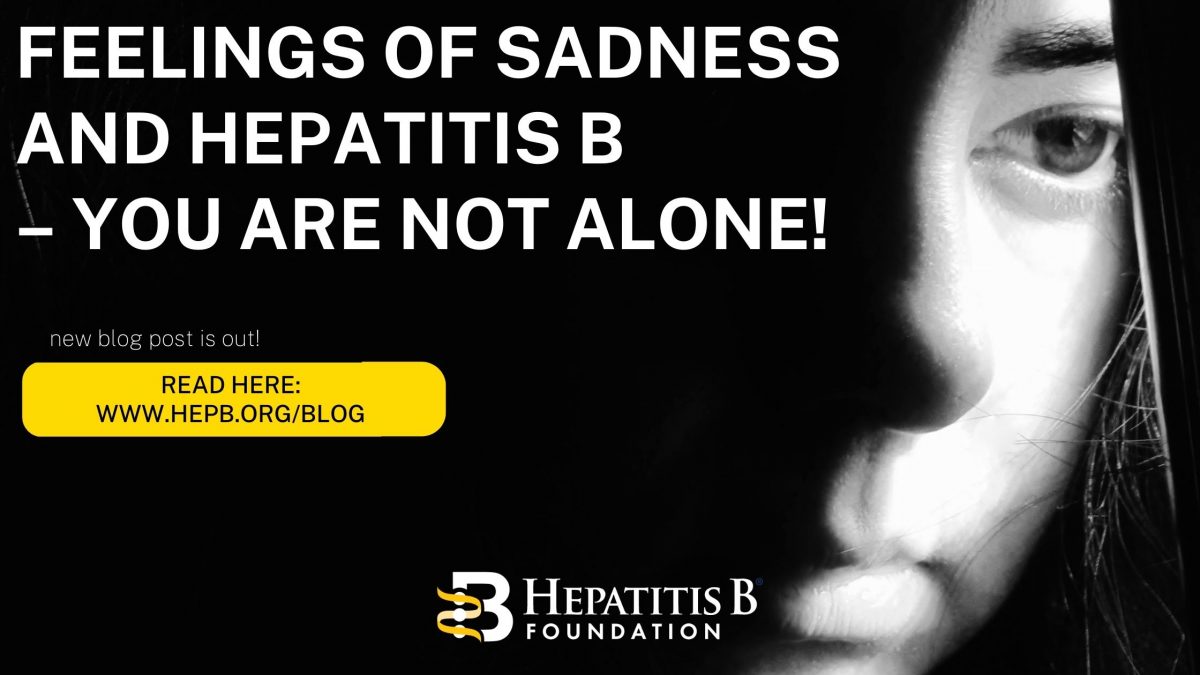 Why Did This Happen to Me? 
Being diagnosed with hepatitis B can be scary and maybe you feel like you can't tell anyone, but you are not alone. Living with hepatitis B is more common than you think, about 300 million people are living with hepatitis B worldwide! You might be wondering how could this happened to me?
Did you know that hepatitis B is an ancient virus? It has been around for thousands of years, is most common in Africa, Asia, and the Western Pacific. And transmission of the virus is almost always from mother-to-child, due to the blood exchange during labor and delivery. Most people with chronic hepatitis B infection were infected at birth or during early childhood. There are other, less common ways hepatitis B can be transmitted through unsterile medical or dental equipment, unprotected sex, or unsterile needles.
Feeling Sad After Your Hepatitis B Diagnosis?
 Sometimes after our diagnosis, we might feel overwhelmed with emotions. These emotions could be anger, sadness, anxiousness, numbness, or maybe a combination of everything. It never hurts to ask someone for some help. Consider going to a therapist. Talking to a therapist, especially if you've always kept your hepatitis B a secret, can help you get a better handle on your hepatitis B diagnosis. It can be freeing to talk to another person and have them support you on your emotional and physical health journey. If you don't have access to a therapist or prefer to be more anonymous, you can join online support groups. Hep B Community is a great resource if you are in need of online global support – they are dedicated to connecting people affected by hepatitis B with each other and with verified experts in the field, who provide trustworthy and accurate advice.
You can also incorporate healthy habits into your lifestyle like taking daily walks, mediation, or incorporating any exercise you enjoy. Eating healthy, with lots of fruits and vegetables can make you feel better inside as well!
Can I Take Anti-Depressants with Medication for Hepatitis B?
 Sometimes, if we have persistent sadness for a long time it can be diagnosed as depression. Luckily, depression can be treated with medication called antidepressants. Antidepressants generally do not harm the liver, unless you have severe, pre-existing liver damage (such as cirrhosis), are older, or are taking several medications at once.
According to research, about 0.5 percent to 3 percent of those taking antidepressants may develop very mild elevation in their liver enzymes (called ALT or SGPT), which indicate mild liver damage. It is a good idea to talk to your doctor about this. If you already have liver damage, or you/your doctor are concerned, your doctor can monitor your ALT/SGPT levels more frequently than usual during your first weeks of antidepressant treatment, especially if your ALT/SGPT level is already elevated.
The antidepressants that may cause the highest risk of moderate liver damage,  include monoamine oxidase (MAO) inhibitors, tricyclic/tetracyclic antidepressants, nefazodone, bupropion (Wellbutrin, also used for ADD and smoking cessation), duloxetine and agomelatine.Drugs with lower risk of causing liver damage include citalopram, escitalopram, paroxetine (Paxil) and fluvoxamine.
Among the most common antidepressants used today is fluoxetine (Prozac).  According to the National Institutes of Health LiverTox report,  in people with no pre-existing liver infections or damage, "Liver test abnormalities have been reported to occur rarely in patients on fluoxetine (less than 1 percent), and elevations (in ALT/SGPT) are usually modest and usually do not require dose modification or discontinuation."
Feeling sad and depressed is normal reaction to receiving news that you have hepatitis B. However,  hepatitis B does NOT define you and a gentle reminder is that you can live a long and healthy life with hepatitis B.