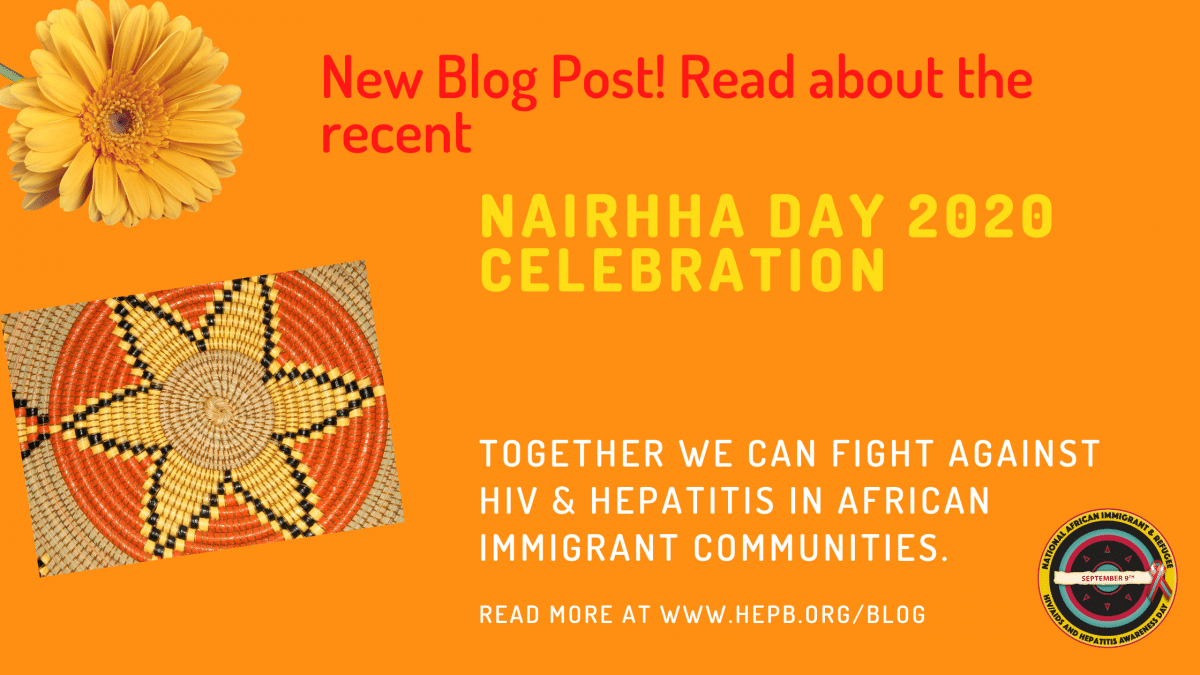 By Beatrice Zovich
On Monday September 21st, a virtual celebration was held in honor of the sixth anniversary of National African Immigrant and Refugee HIV and Hepatitis Awareness (NAIRHHA) Day. This day, which itself is commemorated on September 9th, was created to build awareness and dismantle stigma around HIV and viral hepatitis in African immigrant and refugee communities. It takes place in September because this is the month that has been designated as National African Immigrant Month (NAIM) in the United States to celebrate the diverse and remarkable contributions African immigrants have made to enrich the United States, in spheres ranging from sports to writing to politics.
The virtual celebration that occurred last Monday included a discussion of the history of NAIRHHA Day and how it came to exist in its present form, a conversation with a hepatitis B advocate who is living with the disease, discourse about the importance of NAIRHHA Day on the national level and implications for making it a federally recognized day, and trivia questions about HIV and hepatitis B.
History of NAIRHHA Day: The Journey from 2014 to Present
Moderator: Chioma Nnaji, MPH, MEd, Program Director, Multicultural AIDS Coalition
Panelists: Augustus Woyah, Program Officer for Minority AIDS Initiative, Maryland Department of Health
Amanda Lugg, Director of Advocacy and LGBTQ Programming, African Services Committee
The idea for NAIRHHA Day was first conceived in 2006 at a convening of the Ethiopian Community Development Corporation in Washington, DC, at a session sponsored by Office of Minority Health about HIV in African immigrant communities. Conferences started to occur, primarily in the Northeast, although there was also interest in Atlanta and Seattle. It seemed that an opportunity had finally become available for advocates, researchers, and providers to all come together and focus on data collection, community mobilization, and policy work around HIV and viral hepatitis in African immigrant communities. The African National HIV/AIDS Alliance was established in 2010 and awareness days started in 2012 (Augustus played a large role in this). In 2014, Chioma Nnaji became connected to Sylvie Bello, the Executive Director of the Cameroonian Association in Washington, DC, and they, along with Amanda and Augustus, worked to get NAIRHHA Day off the ground. Chioma has largely spearheaded efforts to have NAIRHHA Day recognized nationally.
In terms of some of the challenges that have and continue to exist around NAIRHHA Day, obtaining community leadership and organizational buy-in, as well as national attention, are at the forefront. Social media and other digital platforms have been widely used in order to amplify the cause and try to obtain federal recognition. Additionally, maintaining relationships with government agencies has been quite difficult and has become a clash of visions of sorts. There is a strong belief that NAIRHHA Day should be a community-driven effort, but government agencies often have their own priorities, which can be distinct from those of the community and grassroots organizers. This is not to discount the government and organizational partners that are still involved, however, including NASTAD, the Hepatitis B Foundation, CHIPO, CHIPO-NYC, and Africans for Improved Access at the Multicultural AIDS Coalition. Another challenge has been reinforcing the distinction between African immigrant and African American communities and not treating the Black community as a monolith. Drawing this distinction in both data and policy remains difficult, thus often rendering African immigrant communities invisible.
When pondering what areas could use improvement going forward, a number of different items were considered. These included incorporating COVID-19 into the conversation, along with viral hepatitis and HIV; addressing social and environmental determinants of health that lead to the over-prevalence of both infectious and non-communicable diseases in minority, and particularly African immigrant communities; adhering to the primary goal of community mobilization and including advocates and researchers to influence policy that provides linguistically and culturally appropriate services that address the most pressing issue of stigma; securing national attention; and obtaining resources. It is critical to remember that advocacy never ends, the need to magnify work and amplify voices is always present, there is no room for complacency, and there exists intersectionality in all issues (social and health justice are all-encompassing).
#justB Storyteller Interactive Discussion
Moderator: Farma Pene, Community Projects Coordinator in Viral Hepatitis Program, New York City Department of Health & Mental Hygiene
#justB Storyteller: Bright Ansah
In this session, Bright spoke about his experience with living with hepatitis B, including his diagnosis, treatment, and communication with his family. He spoke about being able to put a face to hepatitis B, which has helped many people and also allowed him to build strong relationships with a broader community. Bright found out about his status in 2014 and initially felt very lost. The first couple of years were a big struggle, as he did not want to worry his family and it took a while for him to come to peace with his diagnosis. This peace eventually came from a lot of extensive research, after which he found out that hepatitis B is not a death sentence and can be managed very well. He then started to think about what he could do to prevent someone else from becoming "a statistic."
When asked what message he would share with newly diagnosed people, Bright stated that stress and anxiety are normal, but you are not alone. Every day, people find out they are infected. Bright has given his contact information to many different people and he emphasized the incredible importance of having a support system in place. When asked about how he overcame stigma and barriers, Bright replied that the biggest barrier is the mental hurdle. It took him about two years to not feel overwhelmed. Bright does still struggle with feeling rejected from clinical trials and finds this very frustrating – he still feels like he is being punished for having chronic hepatitis B.
The best advice that Bright can offer is to always be your own advocate and do your own research. If the first doctor or liver specialist that you find does not take you seriously or you feel that they are not doing enough for you, you do not need to stay with them and you can absolutely find another doctor. Bright went through this process himself and eventually found a doctor he likes at Johns Hopkins, through a friend of his. This can be a challenge with language barriers, but there are organizations that can help and there is a Specialist Directory tool on the Hepatitis B Foundation website, a resource that Bright stated he found very helpful, along with the website of the National Institutes of Health (NIH). Farma reiterated that the HBF website is a great place to visit to understand lab results in plain language, and offers a good collection of resources for family and community members of people living with hepatitis B. Bright finds that the most important questions to ask are: What exactly is your status and viral load? What should reasonable expectations for your life and health be? Is treatment appropriate and if so, which one? It is crucial to establish mutual respect with your doctor, and to iterate what expectations you have for your doctor as well. The most important messages are: Reach out. Ask questions. Stand up for yourself. You are not alone.
The Important Role that NAIRHHA Day Plays from a National and Policy Prospective
Moderator: Chioma Nnaji, MPH, MEd, Program Director, Multicultural AIDS Coalition
Panelists: Boatemaa Ntiri-Reid, JD, MPH, Hepatitis Director, NASTAD
Jennease Hyatt, Community Liaison for Boston/New England, GILEAD
The final conversation focused on why NAIRHHA Day should become a nationally recognized holiday. VIral hepatitis is the seventh leading cause of death globally. Nineteen million African adults are living with hep C, and 5-8% are living with hep B. Hep B and HIV need to be considered part of the health portfolio of African immigrants, with care taken that this does not compound stigma. NAIRHHA Day is really an opportunity to focus on this community specifically. You get things done by doing them yourselves and we are who we've been waiting for.
There is a strong need for a multi-faceted approach to this work and for local, state, and national partnerships. African immigrants need to be at the forefront of the HIV/AIDS conversation. In Massachusetts specifically, over half of new HIV infections are in immigrant communities: These communities need to be leading the conversation. In terms of the role that government agencies play in NAIRHHA day, this needs to be more than a supportive role. We need to talk about novel approaches. We know that there are healthcare disparities. We need to consider how to use funding to build capacity and engagement, and make sure this work moves forward. This should include counting in community members and small businesses and bringing people to the table who are not usually there. The community really wants to be engaged. Promoting testing and awareness at soccer games, for example, is a great idea. We need strong partnerships and leadership from the beginning and to determine different approaches and thus different outcomes. Community members are the experts and we need to treat them as such.
Across the country, there are jurisdictions that have a prevalence of 40,000 people living with hepatitis in a state and viral hepatitis staff have teams of 1-7. Local and state health departments have more of a role to play. CDC publishes a list of viral hepatitis coordinators by state. It would be great to close the gap with them and discuss more about what they are doing generally and how to get them more involved in NAIRHHA Day specifically. In thinking about a vision for NAIRHHA Day next year, thoughts included that everyone who serves African immigrant communities (including health centers and multi-service organizations) needs to see themselves as part of the solution. Additionally, federal representation should be part of NAIRHHA Day next year.
Trivia and Conclusion
The event concluded with trivia questions about HIV and hepatitis B prevention, testing, and treatment. Amazing music was provided by DJ WhySham and Laura O (@LauraO_TV) served as an excellent moderator. Thanks to everyone who participated and we look forward to another wonderful event next year!