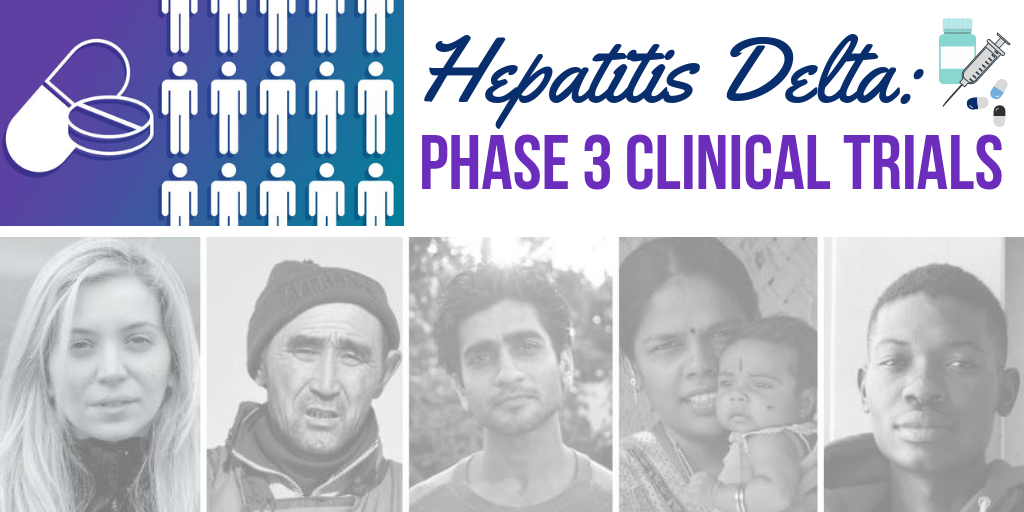 Phase 3 clinical trials have been announced for two drugs, Lonafarnib and Myrcludex (Bulevirtide) for the treatment of hepatitis B and delta coinfection.
Phase 3 studies compare new possible treatments to the current standard treatment, to see if it is more effective and/or safer than the current standard of care. Phase 3 studies are randomized control trials, which means that patients will be assigned to one of several different treatment groups. These studies usually evaluate the new treatment over a long period of time but special designations by the U.S. Food and Drug Administration (FDA) and the European Medicines Agency (EMA), such as Fast Track, Orphan Drug, Breakthrough Therapy Designations and PRIME eligibility status will speed up this process and bring these drugs to approval more quickly. Because the only currently approved treatment for hepatitis delta is pegylated interferon, which is often less than 30% effective, there is an unmet need for faster development of more treatment options.
Phase 3 clinical trials for Lonafarnib are currently recruiting hepatitis B and delta coinfected patients in the United States. Ninety-two international trial site locations have also been announced and will take place in Belgium, Bulgaria, Canada, France, Germany, Greece, Israel, Italy, Republic of Moldova, New Zealand, Pakistan, Romania, Span, Switzerland, Taiwan, Turkey, United Kingdom and Vietnam. This clinical trial, run by Eiger Biopharmaceuticals, will test the new drug Lonafarnib in combination with other treatments. For more information about the study, visit www.D-LIVRstudy.com or clinicaltrials.gov.
Bulevirtide, made by MYR-GmbH Pharmaceuticals, has also announced that its phase 3 clinical trials will be opening in 2019. Trial site locations have not been announced yet. For more information about this study, visit clinicaltrials.gov.

Click here for more information on locating additional clinical trials. If you are considering joining a clinical trial, discussing it with your liver specialist can be helpful in determining if joining a trial may be right for you.
It is very important for hepatitis B and delta patients to be managed by a doctor, preferably a liver specialist, who is familiar with managing hepatitis B and delta coinfection. For assistance in locating a specialist near you, please visit our Physician Directory page. For additional questions, please visit www.hepdconnect.org or email connect@hepdconnect.org.