One Couple's Journey through Hepatitis B, Hepatitis D and Liver Cancer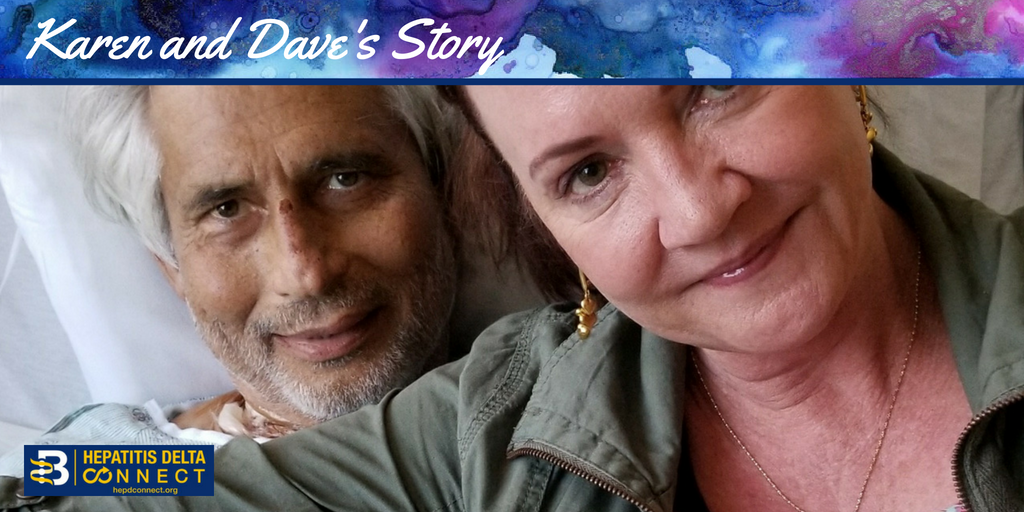 "Dave knew he had hepatitis B for decades, but honestly, no one ever seemed concerned. His liver
enzymes were slightly elevated, so the doctor told him to just watch what he ate and drank. He didn't
even insist on bi-yearly blood tests!
In 2016, Dave was scheduled for a routine colonoscopy. Because he'd been looking pale and sickly
around that time, I suggested they do a blood test first at his family doctor. His numbers were off the
chart. They sent us back for the colonoscopy and added an endoscopy too. They found four varices
(enlarged veins in the esophagus that can indicate serious liver disease). How did this happen?
This was when I started to get angry. The gastroenterologist called us in to discuss the results. He asked
if Dave knew he had hepatitis B. Dave said yes, knowing his drug use in his teens and early twenties was
likely the source. Dave never felt shame about it at all, and just accepted it as a path he took, and
thankfully came out of. After that conversation, the doctor slammed his chart shut and pushed it across
the desk. He said that Dave's liver was so badly damaged that there was nothing he could do and to
'come back in a year'. When we asked about his options for treatment for the varices and his hepatitis B,
he actually told me that no one would treat the varices unless they were bleeding! He also told us that
hepatitis B antivirals would "make things worse". That didn't make sense. We asked about a transplant.
He said there was 'no way' anyone would give him a new liver. He didn't even let us know that there
were actual liver clinics for this very purpose. He sent Dave away to die, really.
Many months later, with much perseverance, we made it to Stanford, where he was immediately put on
entecavir to treat his hepatitis B and to hopefully relieve some of his liver damage. That doctor alerted
us that he should also be tested for hepatitis D, a coinfection of hepatitis B. "It won't be good if you have
it." He did.
Due to changes in our health insurance, we were sent to continue at the University of California San
Francisco Liver Center…they were our saving grace. They treated the varices right away and put him on
other medications to help his failing systems. His hepatitis B viral load was now undetectable, with
hepatitis D being the biggest concern. Dave tried interferon to treat the hepatitis D, but with no luck. His
only chance was a transplant, but even though he was doing poorly, his test results didn't qualify him to
get on the transplant list right away. He had lots of ER visits – 210 office visits in 2017 alone. It was a
whirlwind. Dave hadn't even driven in 2 ½ years. It was an enormous stress on me, too.
Dave developed liver cancer but wasn't in good enough shape to go through treatment. As he got sicker,
he eventually qualified for two different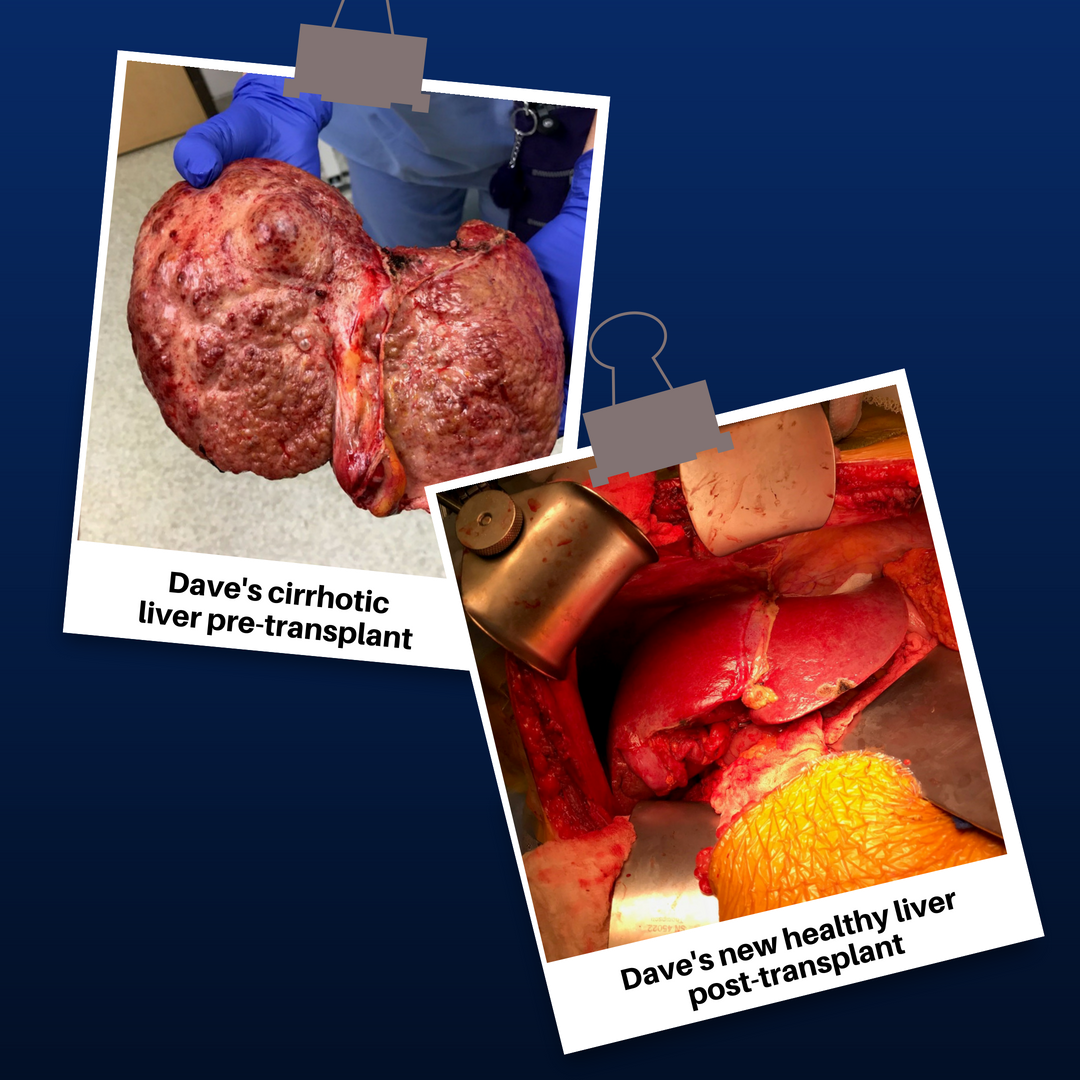 liver transplant waiting lists. Finally, on
Thanksgiving night 2017, we got the call
that a healthy liver was available, and we
took it.
Caregiving is a very tough road. Especially
when your person also has encephalopathy,
caused by years of liver damage – and Dave
had it really bad. The encephalopathy
caused mood swings, short-term memory
loss, hand tremors, low appetite. He could
be down-right nasty. At that time, we were
doing the 4 ½ hour drive to San Francisco
once or twice a week. It was stressful for
both of us – and he was really unaware of
the stress that was put on me. Between
driving, taking out the garbage, bills, our
construction business…you name it, I did it
all.
The first 3-4 months out of the transplant, people were telling him all that had gone on. Much to my
frustration, he didn't believe any of it! Now, over 6 months post-transplant, little things are coming back
to him. I showed him about 2 dozen pictures of him during his journey, and he was shocked! He said he
thought he was fooling everyone into thinking he was well.
The hardest part of this journey was seeing Dave so sick at times. I spent a lot of time in my closet
crying. It was hard on our adult girls too, to see their dad so weak and disoriented. I had a lot of support
through our girls though, and my family, which made a world of a difference. My sister is also a retired
nurse, and she accompanied us to most of our visits. She was a helpful adviser, since his medications
always needed tweaking, and we were often on long calls with our care team, health insurance
company, and pharmacies.
The good we took away is his health! He still doesn't feel it's real. We went through so much, and are so
grateful to be on the other side.
Things I've learned:
• Get on a Facebook forum for liver transplant patients…they are a great resource and a wealth of
information from other patients.
• Take a third person with you to doctor visits and procedures. At times, I was so consumed with
my concern for Dave, it was easy for me to forget some of the things we discussed. My sister
would take notes, and we would review them after.
• Always get a second opinion if you don't have a good feeling about your doctor. You will all
become a team, and it's important to have a team you can trust.
• Get on the transplant list at multiple hospitals, their criteria for transplant varies!
• Have willing family members and friends get tested to see if they are donor matches. Usually the
recipient's insurance will pay for the testing and survey if they are a match. My sister-in-law and
I were both tested but were not a match.
• Ask about organ swap programs. Apparently, my kidneys were in perfect health. My
hepatologist had me apply to the kidney donor program, in hopes that I may be able to donate
my kidney in exchange for a piece of someone's liver for Dave.
• Dave was put on depression and anxiety medication early in the process. He was initially very
resistant, mostly because of the stigma. His doctors finally convinced him it would be very
helpful for his general mood…it was!
• I had to make several phone calls to his team without his knowing. Encephalopathy really makes
you confused, and in Dave's case, grumpy. I asked the doctor to push for the depression and
anxiety medications, which she did. Also, he wouldn't exercise or take short walks before
surgery, which she had asked him to, to better prepare for surgery. I made the phone call, and
at the next visit, she set him up with a Fitbit! It helped that the 'suggestions' came from his
doctor and not me!
• After the transplant, I was so surprised he wasn't more 'thankful' …that he wasn't in awe of
what we had all gone through for HIM! I got angry with him. I made a private call to our new
post-transplant team. She said depression right after is very common. The patient feels
overwhelmed, and sometimes not very thankful. It's kind of a way to deny they were in trouble,
to deny that they needed help. That fits my man to a tee!
• I would strongly suggest lots of patience after the transplant. I wish our team would have told
me the possible mental-state Dave might be in. Don't force them to be thankful. Don't play the
'remember when' game, "remember when I drove you to the ER in the middle of the night?
Remember when they told us you had cancer? Remember when I tried to be your donor?"
Because a lot of it he doesn't remember.
• Take pictures along the way, but don't show them until at least 6 months out. I showed Dave
pictures right away, and they didn't resonate. I just showed him them the other night…and he
was floored! He really 'got it'. He's been looking at things differently lately: he's calmer and
more loving.
• I wish I had kept a journal. The ups and downs of this journey were sometimes excruciating, and
Dave wasn't 'present' to understand it. Hire cleaning help if needed. Get family and friends to
take the patient to lesser important appointments. Don't let household things pile up on you. Fix
the gutter. Repair the screen. Hire a gardener for a few hours. Ask family to set things up for
you. It's amazing how in two years without Dave to physically help around the house, things
started to go south pretty quickly! Luckily, I dug in and kept up.
Quite the journey for sure. I feel blessed to be on this side of health!"
– Karen