Join Hep B United, the National Viral Hepatitis Roundtable, NASTAD and CDC's Division of Viral Hepatitis for a Twitter #HepChat at 2 p.m. (EST) Thursday, June 8. The chat will highlight Hepatitis Awareness Month outreach events and allow hepatitis B and C partner organizations to share their successes, challenges and lessons learned from their efforts.
Below are the Twitter Chat topic areas of discussion. Partners are invited to share images of their events in May, as well as best practices and challenges in conducting outreach events. Join the conversation with the hashtag #HepChat.
T1: What community-based education, outreach & testing events did you conduct during Hepatitis Awareness Month?
T2: How do you prepare for and conduct education, outreach, and testing events?
T3: How do you engage key communities in the planning process? In hosting the events?
T4: What educational or promotional materials do you use at your community based activities?
T5: What are your processes for hepatitis data collection?
T6: How do you notify and ensure people understand their test results?
T7: What are your patient navigation and referral to care strategies?
T8: What best practices would you share with others who might be planning their first event?
T9: How can raising awareness in May and beyond address hepatitis B or C stigma?
T10: What role will your organization play in eliminating hepatitis B and C in your community?
Plan to share your hepatitis outreach events, successes and challenges, and pictures, or use this opportunity to ask the featured organizations questions about their work.
Hosts and handles for the chat:
Hep B United – @Hepbunited
National Alliance of State & Territorial AIDS Directors (NASTAD) – @NASTAD
National Viral Hepatitis Roundtable – @NVHR1
CDC's, Division of Viral Hepatitis – @cdchep
CDC National Prevention Information Network – @CDCNPIN (Moderator)
Featured participants and handles for the chat include:
Hepatitis B Foundation – @HepBFoundation
Hep Free NYC – @HepFreeNYC
National Black Leadership Commission on AIDS, Inc. (NBLCA) – @NBLCA
Hep B United Philadelphia – @HepBunitedPhila
Hep Free Hawaii – @HepFreeHawaii
Confirmed Participants:
Hepatitis B Initiative of Washington, D.C. – (HBI-DC) – @HBIDC
End Hep C SF – @EndHepCSF
Association of Asian Pacific Community Health Organizations (AAPCHO) – @HepBPolicy @AAPCHOtweets
National Association of County and Health Officials (NACCHO) – @NACCHOalerts
Hep CAP/Philly Hepatitis –  @PhillyHepatitis
HOPE Clinic – @AAHC_HOPEClinic
National African Immigrant and Refugee HIV/AIDS and Hepatitis Awareness Day –  @NAIRHHADay
Community Access National Network – @TIICANN
HepVu – @HepVu
Association of State and Territorial Health Officials (ASTHO) – @ASTHO
Project Inform – @ProjectInform
Asociación de Pacientes y afectados de Hepatitis (APAHE) – @PHAHEuruguay
Asian Health Coalition – @AAPInews
Minnesota Department of Health – @MNhealth
National Native American AIDS Prevention Center (NNAAPC) – @NNAAPC
We'd love to add you or your organization to our list of confirmed participants. Email Maureen at maureen.kamischke@hepb.org or direct message @hepbfoundation on Twitter to add your organization, though confirmation is not necessary to participate.
Are you just getting started with Twitter and want to know how to join the conversation?  Type #HepChat in the search box of the Twitter application and click on the "latest option" to follow the twitter view.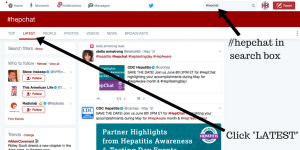 You can prepare any questions or tweets you might have for the above topics in advance, or you can also tweet on the fly, re-tweet, or Like a tweet from the chat.
The topics are labeled T1, T2, etc. so please respond/answer a specific topic by using A1, A2, etc. in front of your tweets. Remember to include the #HepChat hashtag, which is not case sensitive, in all of your tweets.