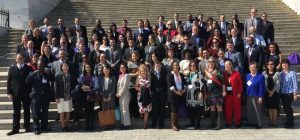 On Tuesday, March 8, more than 120 advocates from across the U.S. fanned out on Capitol Hill to talk to their representatives about the importance of funding the Viral Hepatitis Division of the U.S. Centers for Disease Control and Prevention (CDC). Dozens of people laid their hearts on the line and told their stories about how they, their families, and friends have been touched by hepatitis.
In meetings with Congressional staff, and in some cases their senators, they shared stories about family members who discovered they had hepatitis B only when they were diagnosed with late-stage, inoperable liver cancer. Others talked about how lucky they were to have been immunized at birth, considering their mothers were infected. Courageous advocates described losing loved ones to hepatitis B and C spread through the heroin epidemic, and recalled indifferent healthcare workers who saw only addicts instead of human beings who had  lost their battle with both addiction and hepatitis.
Our goal was to get our representatives to allocate more funding for CDC's hepatitis division, which is sorely needed. It's CDC's job to investigate disease outbreaks and educate the public and healthcare providers about infectious disease. For example, CDC publishes a variety of reports and promotional materials to educate people how to protect themselves against hepatitis B and C. The agency also funds a "hepatitis coordinator" in nearly every state whose job it is to help prevent hepatitis, investigate outbreaks, and collect data—a Herculean task for just one person.
Historically, CDC has been criticized for coming too late to the game to effectively protect at-risk communities about the spread viral hepatitis and create culturally-appropriate materials to help disadvantaged groups, including recent immigrants and injecting drug users. But part of the problem has been its dire shortage of funding.
To implement these much-needed prevention goals, CDC's viral hepatitis division received only $34 million last year. Our job is to convince Congress to raise that amount to $62.8 in next year's budget. With Congressional support, CDC routinely spends billions studying seat belt safety, infant car seats, obesity, and ebola, surely it can raise $62.8 million to help prevent liver disease, which is the fifth-leading cause of death in the U.S.
The need has never been greater. For the first time in years, there have been increases in hepatitis B and C, fueled by a heroin epidemic. I live in Maine, where heroin addiction has spread to rural, economically disadvantaged areas. Maine is one of a handful of states that has seen an increase in hepatitis B due to shared needles among adults who were not vaccinated. (Sadly, Maine was one of the last states in the nation to require hepatitis B immunization for school entry so many remain unvaccinated.) Hepatitis C rates here have increased from about 0.25 new cases per 100,000 residents in 2010 to nearly 2.5 per 100,000 cases in 2014, far above the national average.
Maine is lucky to have several needle exchange programs that refer clients for HIV and hepatitis C screening. In 2015, 20 percent of needle exchange clients tested in Portland tested positive for hepatitis C. These "reported" figures under-estimate the true prevalence. New hepatitis B and C infections rarely cause symptoms, and unless patients require hospitalization or treatment, most infections are never reported. Today, an estimated 75 percent of people with hepatitis C and 65 percent of people with hepatitis B don't know they're infected. To help them get screened, we need to fund CDC so it can make a real difference in this healthcare crisis.
To help increase funding for CDC's viral hepatitis initiatives, please contact your U.S. senators and Congressional representative. Ask them to increase funding for CDC's Division of Viral Hepatitis to $62.8 million. Staying silent is not an option.
For more information about how to contact your representative, click here.