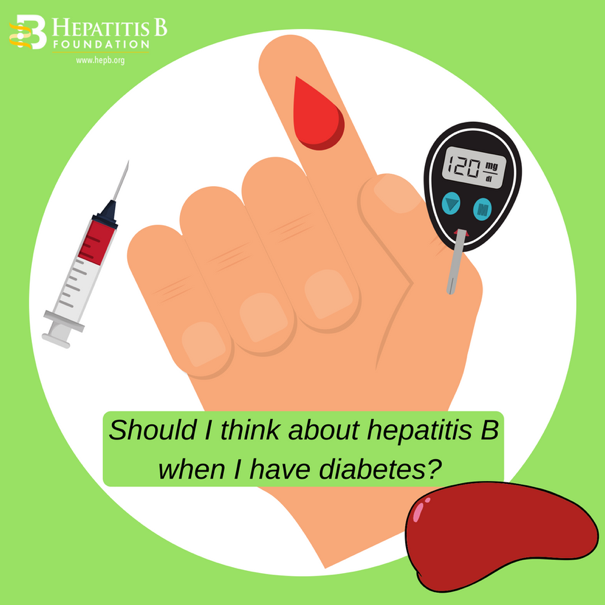 March 27th is Diabetes Alert Day!
Diabetes is a chronic condition that is characterized by high glucose (or sugar) levels in the blood. It usually occurs when a person cannot produce enough insulin, a hormone that controls blood sugar levels. According to the World Health Organization (WHO), global prevalence of diabetes is on the rise! In 1980, diabetes prevalence in adults over the age of 18 was 4.7%. The number rose to 8.5% in 2014 and continues to increase. In 2015, there was an estimated 1.6 million deaths that were attributed to diabetes.
Like hepatitis B, there have been several studies that show a strong link between type II diabetes and liver cancer. Diabetes and hepatitis B can be a dangerous combination and can work together to increase someone's risk of developing liver cancer.
Since the hepatitis B virus can be transmitted via blood or other bodily fluids, people living with diabetes are at an increased risk of contracting hepatitis B. In fact, one study found that people living with diabetes between the ages of 23-59 have an approximately two-fold increased risk of hep B infection compared to those without diabetes. According to the Centers for Disease Control and Prevention (CDC), there have been hepatitis B outbreaks in nursing homes, assisted living, and long-term care facilities among people living with diabetes. Some risks for transmission include:
Sharing glucose meters between residents without cleaning and disinfecting between uses
Lack of proper hand hygiene and failure to wear gloves between fingerstick procedures
Using the same fingerstick devices for more than one resident
Cross-contamination of clean supplies with contaminated blood glucose monitoring equipment used by home health agencies
Sharing injection equipment such as an insulin pen or syringe for more than one person
Failure to perform proper sterilization and separating contaminated and clean podiatry equipment
Failure to perform proper disinfection between podiatry patients
So, what can you do if you are living with diabetes to prevent hepatitis B transmission?
Get tested! A simple three-part blood test will tell you if you have hepatitis B, were exposed, or are protected.
Get vaccinated – If you find that you are not protected or if you have not finished your hepatitis B vaccine series. The CDC and Advisory Committee on Immunization Practices (ACIP) recommend that adults between 19-59 years of age living with diabetes get vaccinated to protect against hepatitis B. Those 60-years-old or older should ask their doctor about the vaccine before getting it.
Do not share your diabetes care equipment to prevent exposure!
For more information about hepatitis B and diabetes, WHO, CDC, and/or American Diabetes Association. For a personal account of hepatitis B and diabetes, visit Martha Zimmer's blog post. You can also visit our website for information about diabetes and liver cancer