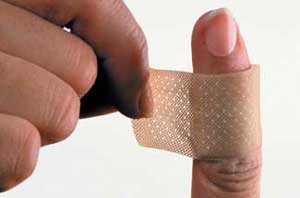 How can you prevent future transmission? Now that you are aware of your infection, it's easier than you think.  In a perfect world, everyone would be vaccinated against HBV and be protected, but of course this is sometimes not the case. Always encourage HBV vaccination when possible now that you understand the importance of this safe and effective 3-shot series. However, the vaccine does take time to complete, so in the interim, some general precautions will keep you and everyone you know safe.
Always maintain a barrier between blood and infected body fluids and any open cuts, mucous membranes (eyes, nose or mouth), or orifices of someone else. Keep cuts, bug bites – anything that bleeds or oozes – covered with a bandage. Also, remember to carry a spare bandage.  These are some simple prevention methods.
Do not consider unprotected sex unless you are sure your partner has had all 3 shots of the HBV vaccine series. And remember to consider the risks of other infectious diseases that are transmitted sexually if you are not in a monogamous relationship.  Multiple sex partners and non-monogamous relationships expose you to the potential of more health risks and even the possibility of a co-infection.  Co-infections are when someone has more than one serious chronic condition (like HBV and HCV , HBV and HIV or HBV and HDV).  Co-infections are complicated health conditions that you want to avoid. Therefore, practice safe sex by using a latex or polyurethane condom if you have multiple partners.
General precautions include carefully handling of your own blood, tending to your own blood spills when possible, and properly disposing of feminine hygiene products. Properly dispose of blood stained materials in tightly closed plastic bags. If someone else must tend to your bleeding wound or clean up your blood spill, be sure they wear gloves, or maintain a barrier, and wash their hands thoroughly with soap and water.  Many germs and virus (like HBV) can be effectively killed when cleaned using a diluted bleach solution of 1 part bleach to 9 parts water.  Ideally this solution should be made when needed as the shelf life is limited.  Everyone should use these basic precautions – with or without a known HBV infection.  Make this part of your daily life.
And what about your personal items?  Well it's best if they are kept personal and out of common areas unless everyone is vaccinated. This includes things like razors, nail clippers, files, toothbrushes and other personal items where microscopic droplets of blood are possible.  This is good practice for everyone in the house. After all, you may not be the only one with an infection. Simple changes in daily habits keep everyone safe.
If those at risk in your life that are not already vaccinated or have not recovered from a past infection (Get tested first!), then they need to start the series immediately. This includes sexual partners and close house hold contacts and  family members. The HBV vaccine is a safe and effective 3-shot series.  Timing may be of concern or a sense of urgency, so just get it started. The regular schedule is completed within six months. Tack on an extra month and ask their doctor to test surface antibody (anti-HBs) titers 1-2 months following the last shot of the series to ensure that adequate immunity has been generated by the vaccine.  This is not standard routine but will help insure those at higher risk that they are protected. In the interim, remember to practice safe sex with your partner using latex or polyurethane condoms.
The timing of the antibody titre should be 4-8 weeks following the last shot of the series. If titers are above 10 then there is protection for life.  If someone has been previously vaccinated a titer test may show that their titers have waned and dipped below the desired reading. There is no reason to panic, as a booster shot can be administered and then a repeated titer test one month later will ensure adequate immunity. Once you know you have generated adequate titers, there is no need for concern of transmission.
When recovering from an acute infection, if your follow up blood test results read: HBsAg negative, HBcAb positive and HBsAb positive then you have resolved your HBV infection and are no longer infectious to others and you are no longer at risk for infection by the HBV virus again.
However if your follow up blood tests show that you are chronically infected or your infection status is not clear, you will want to take the precautionary steps to prevent transmitting your HBV infection to others. You will also need to talk to your doctor to be sure you have the appropriate blood work to determine your HBV status and whether or not you are chronically infected.
Please be sure to talk to your doctor if you are unsure, and don't forget to get copies of those labs. Check out  transmission part I and part II if you are looking for a little more transmission information.