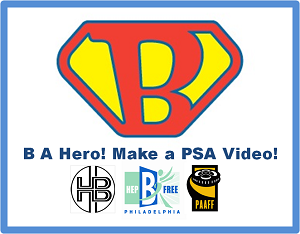 Hep B Free Philadelphia "B A Hero" PSA Video Contest 2012
Channel your creativity and skills for a good cause and win prizes!
Raise HBV awareness!
Hep B Free Philadelphia and Hepatitis B Foundation invite you to create a 30-second Public Service Announcement (PSA) to raise awareness about hepatitis B. Finalists will receive prize money and the winner's PSA will be shown at Hep B Free Philadelphia's annual media event as well as ** drum rolls** the 2012 Philadelphia Asian American Film Festival! Thousands will get to see your creative brainchild!
Hepatitis B is a serious infection that affects about 2 million people in the United States. About 1 in 10 Asian Americans and Pacific Islanders are chronically infected—with African immigrants approaching a similar ratio as well. About 1 in 4 of the chronically infected individuals will die of liver cancer or cirrhosis.
Many infected individuals are not aware of their status because hepatitis B doesn't usually produce symptoms for decades, and when the symptoms start showing it is often too late for treatment—it is a silent killer!
Help us raise awareness by entering the "B A Hero" PSA Video Contest and submitting a PSA made by you! Videos should highlight hepatitis B and include the "B A Hero" theme.
5 Easy Steps:
1. Make a 30-second video to raise awareness and B a hero
2. Check the fact sheet below to make sure all your HBV information is correct
3. Submit the PSA through Facebook
4. Get all your friends to vote for your PSA
5. Win prizes and B famous!
Submission deadlines:
Round 1 – February 17
Round 2 – March 16
Round 3 – April 13
Register NOW at Hep B Free Philadelphia's Facebook Page!!
Submissions can also be emailed toPSAContest@hepb.org.
For the official contest guidelines, please click here
For the hepatitis B fact sheet, please click here
Questions? Please contact Hep B Free Philadelphia program manager Daniel Chen at Daniel.chen@hepb.org
Three finalists will win $100 each!
One Grand Prize winner will win an additional $150
AND have their video shown at the 2012 Philadelphia Asian American Film Festival!
B a hero! Make a PSA Video and raise HBV awareness!
There are some excellent HBV PSA videos on YouTube. Here's an example of a great one, but feel free to visit Hep B Free Philadelphia's Facebook Page and scroll down for more examples!