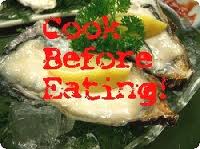 Summer is here, and it's time for a smorgasbord of your favorite, fresh seafood.  All good, but if you have hepatitis B, you're going to want to take precautions to ensure you don't get sick, or even die, from the seafood that you eat.
There are a couple of variations on what is considered shellfish, but basically it includes oysters, clams, mussels, shrimp, crab, and lobster.  Oysters and clams are the only shellfish eaten raw, so they present the greatest danger.  Raw oysters are the main culprit, although all raw or undercooked shellfish from warm coastal waters, especially during the summer months, are a risk.  It's difficult to ensure the origin of your seafood, despite labeling requirements, and whether or not it was frozen, or partially unfrozen at some time.  As a result, it's best to treat all seafood equally.  And of course it's not the shellfish itself, but rather a microbe called Vibrio vulnificus.  In fact this hearty microbe may exist in warm, salt-water directly, and care should be taken to avoid exposure of open wounds to potentially contaminated water.
V. vulnificus is very virulent with a 50% mortality rate.  The microbe may enter the blood stream via an open wound, or the GI tract where it may cause sepsis.  This is especially perilous for people that are immunocompromised, or have liver damage due to chronic infections such as viral hepatitis – specifically hepatitis B.  Symptoms may include fever, chills, vomiting, diarrhea, and abdominal pain.  It is very serious, and may lead to septic shock and death.  Septic infections are carry a high mortality rate of 50% in individuals without liver disease.  Those that are immunocompromised or suffer from liver disease are 80 to 200 times more likely to develop septicemia from V. vulnificus than those without liver disease.  Those are pretty serious odds.
Please keep in mind that this is not to be confused with basic food poisoning from "bad seafood".  There are no visible signs of the bacterium.  Contaminated shellfish smell and taste fine.  If you believe you may have been infected, you need to seek immediate medical attention.
If you must eat shellfish, please follow precautions.  Be sure shellfish are thoroughly cooked.  Cook all oysters, clams and mussels until the shells open and continue boiling for five additional minutes.  If steaming, cook for an additional nine minutes.  Boil shucked oysters for at least three minutes, or fry them in oil for at least ten minutes at 375 degrees F.  Wear protective gloves when handling and cleaning raw shellfish, and avoid exposure to open wounds.  (This warning actually includes exposure of open wounds to infected waters, so be careful when vacationing.)  Take care to keep raw seafood and all other foods separate.  Eat when cooked, and immediately store leftovers in the fridge.
I've never been a fan of raw shellfish, and with my HBV awareness, I instilled a sense of fear in my children regarding raw shellfish, or any raw seafood.  If it's got a shell – especially oysters, clams and mussels, they don't touch it, and they gag at the sight of raw seafood.  Okay, so maybe I carried that a bit too far, but at least I can check that one off my danger list. V. Vulnificus is dangerous! If you have HBV, it would be best to avoid shellfish.