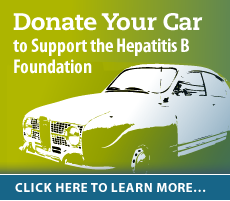 Are you thinking of selling or trading in a vehicle?  Donate it to the Hepatitis B Foundation instead. Turn your car, running or not, into a tax-deductible contribution and help find a cure and improve the quality of life for those affected by hepatitis B worldwide.
The Hepatitis B Foundation works with a full-service partner that will make all the arrangements to conveniently and quickly pick-up your vehicle donation at no cost to you. They handle the pick-up, the title transfer requirements, and sale of the vehicle.
To complete your vehicle donation, follow the instructions on the Donation Line website, or call 877-227-7487.  Need more information? View our most frequently asked questions below or contact us at info@hepb.org.
FAQs
What can I donate?
We accept most cars, vans, trucks, trailers, motorcycles, boats, jet skis, snowmobiles, RVs and even airplanes!
Is my donation tax deductible?
The Hepatitis B Foundation is recognized by the IRS as a not-for-profit 501(c)(3) charitable organization and your donation is tax-deductible to the full extent of the law.  To benefit from this tax-deduction, you must itemize your taxes.
What do I need to provide?
Besides the car, we would like the title to the vehicle. If you do not have it, call us anyway. It is possible that other arrangements may be made.
My car hasn't run in years. Can I still donate it?
Yes, most vehicles are accepted, running or not (exceptions include older vehicles whose value would not offset the cost of towing).
Can you pick up vehicles in all 50 states?
It is possible to pick up most vehicles in the continental U.S. and Hawaii.
How will the car be picked up?
Arrangements will be made to have your vehicle towed away at a scheduled time.
How long will it take to pick up my car?
Someone will contact you to schedule an appointment within three or four business days at the most.
To donate your car, click here, and follow the instructions.
Thank you!