June is Pride Month! As we celebrate our differences and recognize the rights of the LQBTQ+ community, it is important to highlight the health disparities that they face, and ways to overcome such difficulties. To help spread awareness about the impacts of hepatitis B within this group, we've interviewed Thaddeus Pham, Co-Director of Hep Free Hawaii!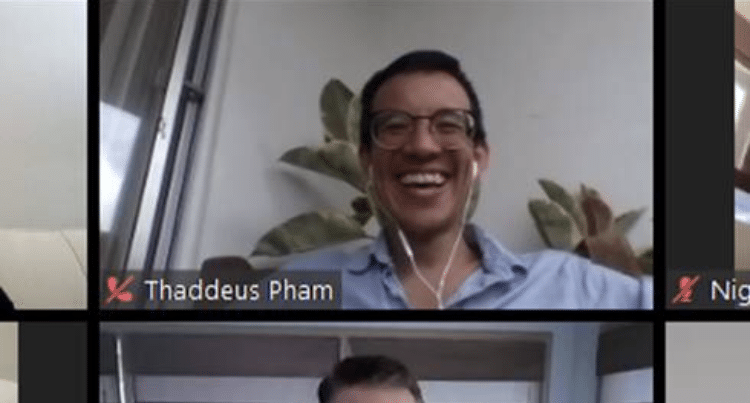 Hi Thaddeus! So to start off with, can you tell us a little about who you are, and why this topic is important to you?
Thanks, Michaela! Well, I am currently the Co-Director for Hep Free Hawaii, our statewide coalition dedicated to eliminating hepatitis and related harms on our islands. I am also the Viral Hepatitis Prevention Coordinator for the Hawaii State Department of Health, although most folks in the community have also dubbed me the "Queen of Hepatitis" hahaha. 
This work is important to me personally because I am a cisgender, gay man whose parents were born in Vietnam. As such, my work in public health has always been informed by the intersection of multiple identities, in this case, people who are LGBTQ+ and also foreign-born Asians or Pacific Islanders. That's why I was so excited you asked me to chat about the impact of hepatitis B on gay and bisexual men. 
As the Queen of Hepatitis, can you explain more about hepatitis B & how it impacts members of the LGBTQ+ community?
Sure thing! First of all, hepatitis B is a highly infectious blood-borne disease that can be transmitted through sex, injection drug use, and from mother-to-child during childbirth. The hepatitis B virus attacks the liver and causes an acute (short-term) or chronic (life-long) infection. If untreated, it can lead to liver disease, liver cancer, and even death. 
In the United States, gay and bisexual men are at high risk for hepatitis B infection, usually through sex. According to the CDC, about 20% of new hepatitis B infections occur among this community. Think about that: 1 out of 5 new cases of hep B is a gay or bisexual man. To my community, I say: get tested!
Good point! What are some additional reasons to get tested for hepatitis B? 
Well, getting tested for hepatitis B is essential for many reasons:
Hepatitis B is called a "silent infection"; there are usually no symptoms until it gets pretty bad (e.g., serious liver damage or even liver cancer).

Liver damage can be happening even if you don't notice any symptoms. Also, the virus can be spread even if you are asymptomatic. Testing is the only way to know for sure that you are not living with hepatitis B. 

Co-infections with hepatitis B can be dangerous

. People living with

hepatitis

C

and

HIV/AIDS

are at higher risk of contracting hepatitis B, and will also suffer more serious complications.  Even a co-infection with hepatitis A, which is short-term, can cause liver damage. Knowing your hepatitis B status can help your healthcare providers treat you properly and lower your risk of liver disease and liver cancer!

Acute infections can have future consequences.

About 90% of hepatitis B infections in adults are acute. This means that your body will recover from the virus in 6 months or less. The virus will no longer be in your bloodstream, but it will be "sleeping" in your liver. Even though the hepatitis B virus is not causing any damage and you are not infectious, the

infection can be reactivated

by certain medications and treatments. That's why it is important to know that both you and your healthcare provider are 100% sure of your hepatitis B status. 
Wow, so is hepatitis B preventable? 
Hepatitis B can be prevented with a vaccine! If you get tested for hepatitis B and learn that you have no infection and no immunity, you can get the 2-dose hepatitis B vaccine, which protects you in a month, or the 3-dose vaccine, which can offer protection in six months. If possible, get tested first because the vaccine will only protect you if you don't have the virus yet. Also, remember to get ALL the recommended doses of the vaccine series so you can be fully protected. Finally, if you are unsure of your status, it is important to use a condom. A condom is effective in preventing transmission of hepatitis B as well as other STIs, including HIV.
Great! So, where can someone get tested or vaccinated for hepatitis B? 
Your healthcare provider can provide hepatitis B testing and vaccination services. If you do not have a doctor, federally qualified health centers, community health clinics like Planned Parenthood, and your local health department can test and vaccinate you for hepatitis B. The CDC  lists LGBTQ+-friendly health centers here. The vaccine is covered by most insurance providers, as well as Medicare part B for high-risk groups.
Is there anything I can do to help raise awareness? 
Let's talk about it! Even though it is just as harmful as HIV, hepatitis B is not as widely discussed among gay and bisexual men. This is scary because the U.S. is seeing an increase in adult acute hepatitis B cases, and studies show that hepatitis B vaccination rates are low amongst gay and bisexual men. 
Talk to your friends, your partners, and your community to know their status, and to take action to protect themselves! The CDC has free resources that can help promote vaccination, as well as information that can help you get the discussion started. 
Thanks Thaddeus! Any final thoughts you would like to share with our readers? 
Thank YOU, Michaela! I really appreciate this opportunity to chat about the impact of viral hepatitis on gay and bisexual men. I think it is important to point out the LGBTQ+ community also encompasses our lesbian and bisexual sisters as well as our transgender and gender nonconforming siblings, who could also benefit from hepatitis vaccinations and care.  
Finally, I can't help but think about Pride month in the context of the COVID-19 pandemic and Black Lives Matter protests. I am super grateful to work with Hepatitis B Foundation, who has always aligned with one of the core concepts of our hepatitis efforts in Hawaii: public health work is social justice work!