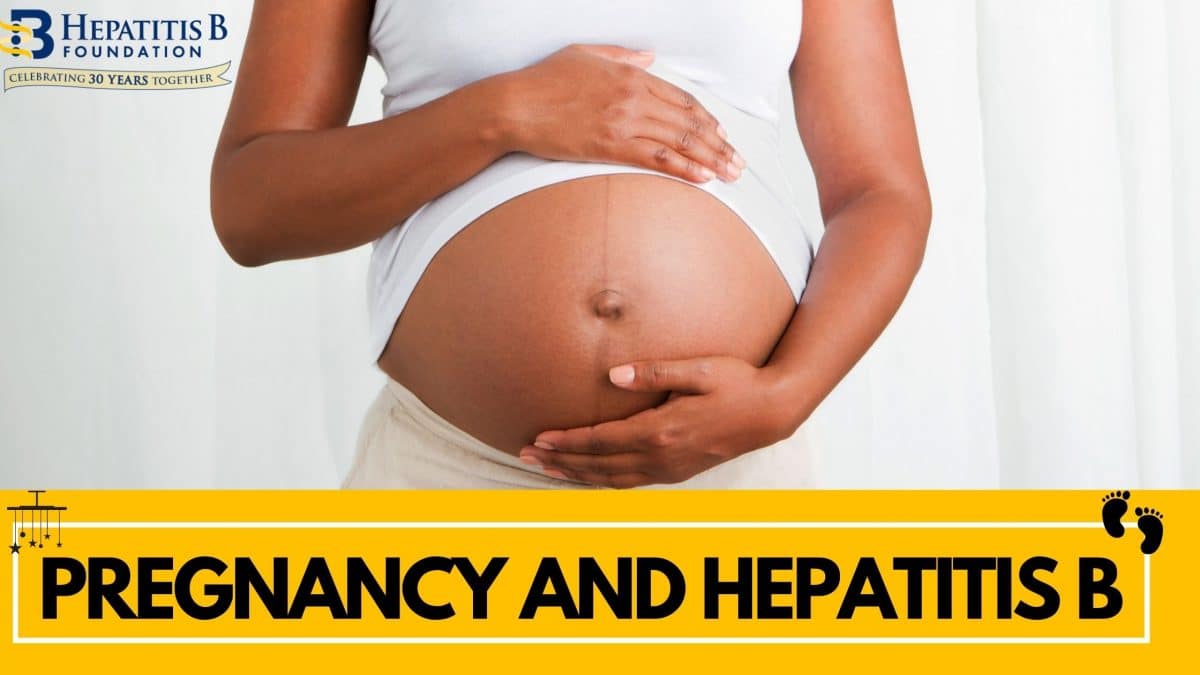 The hepatitis B virus can cause an acute (lasting less than 6 months) or chronic (lifetime) infection. Chronic infection occurs in 90% of infants infected through mother-to-child transmission at birth; and about 50% of children will develop a chronic infection if exposed to the virus between 1 and 5 years of age. Those infected as adults are much less likely (<5%) to develop a chronic infection. Left untreated, hepatitis B can progress to cirrhosis and other serious liver diseases like liver cancer. This blog will talk about mother-to-child (perinatal) transmission and commonly asked questions about perinatal transmission.
Transmission of Hepatitis B from Mother to Child
Globally, the most common route of transmission is mother-to-child. Some people might think the hepatitis B virus is transmitted genetically, but this is NOT true. Hepatitis B is a virus that can be transmitted from a mother to her child because of the blood exchange that happens during childbirth. The great news is that we can prevent mother-to-child transmission! If a pregnant woman tests positive for hepatitis B infection, then her newborn must be given proper prevention immediately after birth in the delivery room, clinic or bedside:
first dose (called "birth dose") of the hepatitis B vaccine
one dose of the Hepatitis B Immune Globulin (HBIG).*
*HBIG is recommended by U.S. CDC. HBIG is not recommended by WHO and may not be available in all countries. What is most important is to make sure the hepatitis B vaccine birth dose is given as soon as possible!
If these two medications are given correctly, a newborn born to a mother with hepatitis B has a 95% chance of being protected from a hepatitis B infection. You must make sure your baby receives the remaining shots of the vaccine series according to schedule to ensure complete protection.
And there is more good news – if a pregnant woman with hepatitis B has a high viral load during pregnancy, it is recommended that she take antiviral therapy during her third trimester, which will further reduce the risk of mother-to-child transmission. If you are pregnant and have hepatitis B, talk to your doctor about testing your HBV DNA level, and starting antiviral treatment if it is elevated. There are WHO guidelines for managing hepatitis B infection among pregnant women, which your doctor can use to guide your care.
Commonly Asked Questions About Perinatal Transmission
I am pregnant, should I be tested for hepatitis B?
ALL pregnant women should be tested for hepatitis B. Testing is especially important for women who fall into high-risk groups such as health care workers, women from ethnic communities or countries where hepatitis B is common, spouses or partners living with an infected person, etc. If you are pregnant, be sure your doctor tests you for hepatitis B before your baby is born, ideally as early as possible during the first trimester.
I have hepatitis B and I am pregnant, what should I do?
You already know your hepatitis B status – this is a great first step! The next thing you should do is tell your medical provider who should perform additional laboratory testing, including HBV DNA level (viral load), and should check to see if there is evidence of cirrhosis.
All pregnant women who are diagnosed with hepatitis B should be referred to care with a knowledgeable doctor. Some may require continued treatment with an antiviral, many will not. All women with hepatitis B need regular monitoring throughout their life since hepatitis B infection and the health of the liver can change over time.
Can I transmit hepatitis B to my baby when I am breastfeeding?
The U.S. Centers for Disease Control and Prevention (CDC) and World Health Organization (WHO) recommend that all women with hepatitis B should be encouraged to breastfeed their newborns.  
*Especially if your baby has received the hepatitis B vaccine birth dose, the benefits of breastfeeding outweigh any potential risk.*
Can I prevent my baby from contracting hepatitis B?
Yes! In all cases, it is very important that your obstetrician (or provider who will be delivering your baby), and your newborn's pediatrician, are aware of your hepatitis B status to ensure that your newborn receives the proper vaccines at birth to prevent a lifelong hepatitis B infection and that you receive appropriate follow-up care.
Should I continue to see a doctor after I give birth?
Yes! Women who have hepatitis B should be closely monitored for 6 months after delivery whether they have been prescribed antivirals are not. This will ensure there are no dangerous elevations in liver enzymes, which can indicate liver damage (ALT flares). For most women whose follow-up testing shows no signs of active disease or cirrhosis, your physician will recommend regular monitoring with a liver specialist (hepatologist) or doctor with experience managing the care of people with hepatitis B. 
World Health Organization Recommendations
In 2020, The World Health Organization released two new recommendations for the prevention of mother-to-child transmission of hepatitis B.
In addition to the series of hepatitis B vaccinations (including the first dose within 24 hours of birth), WHO now recommends that pregnant women testing positive for HBV infection (HBsAg positive) with an HBV DNA viral load threshold of ≥5.3 log10 IU/mL (≥200,000 IU/mL) receive tenofovir prophylaxis; the preventive therapy should be provided from the 28th week of pregnancy until at least birth.
In settings where HBV DNA testing is not available, WHO now recommends the use of HBeAg testing as an alternative to determine eligibility for tenofovir prophylaxis for the prevention of mother-to-child transmission of HBV  This is because some settings have poor access to tests that quantify an individual's HBV viral load and determine whether a pregnant woman would be eligible for preventive treatment or prophylaxis. This is especially the case in low-income settings or rural areas where many antenatal care visits take place.
Author: Evangeline Wang
Contact Information: info@hep.org