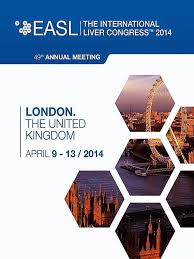 Three new studies presented today at the International Liver Congress 2014 have helped clarify the optimal use of combination therapy with peginterferon and nucleoside analogues (NUCs) to achieve the best treatment outcomes in patients with chronic hepatitis B (CHB).
"Together these ground-breaking data will go a long way to influencing future CHB treatment guidelines," said EASL's Educational Councillor Professor Cihan Yurdaydin from the Department of Gastroenterology, University of Ankara, Turkey.
In the first study , CHB patients who had failed on prior long-term exposure to one of the nucleoside analogue (NUC) antivirals demonstrated high rates of complete response and HBsAg loss when prescribed a sequential combination of peginterferon and NUC.
In the second study , adding peginterferon to the nucleoside analogue entecavir was shown to enhance response rates and viral decline in HBeAg-positive CHB patients with compensated liver-disease, was generally safe and well tolerated, and may facilitate the discontinuation of entecavir.
Finally, data from a third study suggested that adding on a NUC for six weeks to PegIFNalfa-2a does not enhance treatment response, with no increase in HBeAg seroconversion rates beyond that achieved by PegIFNα-2a alone after 24 weeks follow-up.