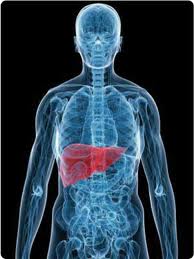 The liver is the largest solid organ in the body, and your skin is the largest organ.  It only makes sense that the skin may be a window into what is going on inside your body and your liver.  The problem is trying to figure out what your skin is trying to tell you!
The most common skin manifestation associated with "hepatitis" is the yellowing of the skin (jaundice) and the sclera, or white part of the eye.  Jaundice  may be associated with a newly acquired or acute hepatitis B infection.  It certainly gets your attention and gets you to the door of your doctor, which is a good thing.  However, keep in mind that HBV is often asymptomatic, with few or no obvious symptoms, and jaundice is a more severe symptom of an acute HBV infection. Jaundice may also occur in those with advanced liver disease, and a decompensated liver. Jaundice is due to an accumulation of bilirubin, a yellow pigment, in the blood and tissues.  Your liver is responsible for controlling the levels of bilirubin.  If your liver is having problems performing basic, yet essential functions, yellow skin, eyes, dark urine, and itching (pruritus) may all be due to an inability to filter excess bilirubin.  Please see your doctor immediately if you experience jaundice of the skin or eyes.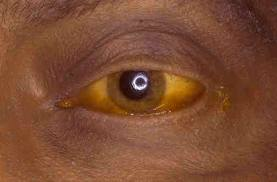 It is also not uncommon for those with more advanced liver disease such as cirrhosis to have palmar erythema, which presents like red palms –especially around the base of the thumb and little finger.  Keep in mind that there may be other reasons for experiencing red palms, such as high blood pressure, pregnancy, or elevated estrogen levels. Talk to your doctor if you have concerns.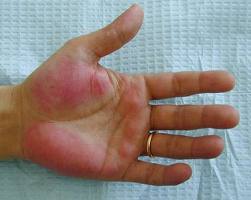 Spider nevi or spider angioma are another indicator of more serious liver disease. These are not to be confused with spider veins. It is also important to note that 10-15% of healthy adults and children have spider nevi, with no underlying disease. They range in size from 0.5 to 1 cm in diameter, with a dark center, radiating out to fine, red lines. When the center is depressed with the finger, the radiating lines disappear, and then re-appear, when the finger is lifted. Spider nevi may be caused by an increased level of estrogen in the body.  Naturally these may also appear during pregnancy, and in women using oral contraceptives. Following pregnancy and the discontinuation of contraceptives, the spider angiomas will disappear on their own. Like so many basic, but essential functions, the liver is responsible for breaking down and removing excess estrogen. Spider nevi associated with liver disease tend to be large in number and appear on the upper part of the body, face, and neck – especially on the backs of the hands and arms. Once again, it is a good idea to point out these out to your doctor.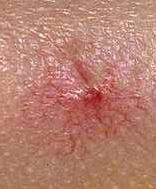 Gianotti-Crosti Syndrome is a rash associated with HBV and EBV (Epstein Barr Virus). This rash almost always occurs in children, with 90% of kids under the age of four. The rash may last from two to eight weeks. Basically, it's just a response to a virus, and nothing to worry about – just an indicator. Kids often have a rash for one reason or another.  If the rash is excessively itchy, talk to your pediatrician about using a topical steroid. Every parent of a child with HBV is convinced their child has some sort of HBV associated rash. (Speaking from experience…) Even the pediatric liver specialist was unsure, so she got a consult with a pediatric dermatologist.  The rash was unrelated to HBV.
Wondering about your finger nails?  There's a condition called Terry's Nails which is present in many of those with cirrhosis. The nail appears mostly white, similar to the appearance of "ground glass", and possibly with a little pink strip at the top of the nail bed.  This is due to a decrease in blood flow to the nail bed and an increase in connective tissue.  Remember that your doctor will not be able to see any of this if you wear nail polish to your appointment.
How about your basic rash that is associated with hepatitis B?  Rashes are most often associated with acute hepatitis B infections, although a recurring rash may occur in those chronically infected.  Talk to people living with HBV and they'll tell you they have occasional rashes and annoying itching, even if their doctor may tell them they do not.  Could be totally unrelated, or it could be erythematous papular lesions, or palpable purpura.  In other words, your basic red or purplish, raised, bumpy rash. It's not easy to find specific information linking your basic rash to HBV, but when you consider how the skin is a window to your general health, it makes sense that you may see skin manifestations that reflect your immune system response to your HBV infection as it cycles through various stages, phases and flares.
If you are living with HBV, you know the importance of monitoring your HBV status and your liver health.  Annual, bi-annual, or the schedule recommended to you by your liver specialist, will keep you on top of what is going on with your HBV and any associated liver disease.  However, it is good to take notice of any changes in the skin and nails as the liver is a non-complaining organ.  Sometimes we have to look for evidence that something is going on. That being said, I feel the need to rush to a mirror and check myself out after having researched and written this blog.  The skin may be a window to our general health, but it is not always easy to figure out what it's trying to tell us. If you have any questions, don't try to self-diagnose. Talk to your doctor and bring any of your concerns to his attention.