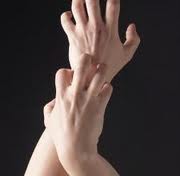 The previous Hepbtalk blog discussed skin manifestations associated with hepatitis B and liver disease. This is a follow-up with some suggestions on dealing with rashes and pruritus (itchy) skin. Unfortunately, I have experience with this.
Most people living with HBV have episodes with rashes that itch, or with an itch without the rash. Rashes can be caused by all kinds of things, but the skin truly does let us know when there is something going on with our body. We may not be able to eliminate the itch, but we can work on providing the body with a little relief, and to be sure we do not do anything to make the persistent itching worse.
First, consider the root of the problem. It is possible that your rash and itching are unrelated to the current status of your HBV infection.  Unless you have serious liver disease, this might be difficult to pin down since many living with chronic HBV have compensated livers that perform all of the necessary liver functions required for life.  That does not mean you aren't going crazy with itchy skin, but it is important to look at other factors that may be contributing to your pruritus.
Are you currently being treated with IFN or PEG for your HBV?
Have you recently started a new medication?
Do you have allergies, seasonal, food or otherwise?
Do you have other symptoms that might relate to another virus or infection?
Have you recently switched laundry detergents or rinses?
Have you recently switched any of your personal care items – shampoo, soap, creams, deodorant, etc.
Try to determine if there is a pattern associated with your skin problems.  Any of the above can cause rashes or pruritus without the added complication of HBV or advanced liver disease from HBV. I was convinced that HBV was the root of all skin problems, but I was wrong. That's why it's good to look at other possible sources so you can at least eliminate the things you have control over.
Here are some simple things you can do to help reduce the degree of pruritus:
Choose products that are unscented including laundry detergent and dryer sheets, along with shampoos, conditioners, creams and other personal care items. Unscented products are better for you liver, anyway. Everyone in my house is clean, but there is no fresh, clean smell.
Avoid soaps and use gentle skin cleansers like Cetaphil (another favorite in our house).
Use moisturizers that contain a minimum of alcohol, since alcohol is drying.  There is sometimes a balance with thick vs. thinner creams. We bounce back and forth between Cetphil and Eucerin, but you might have to test a few of them before you find the one that works best for you.
Take tepid rather than hot showers and baths, but be sure to bathe daily.
Wean your kids out of the tub ASAP.  This broke my heart, but the extra time in the bath is drying.  (However, oatmeal baths are recommended, even though this didn't work for us). Don't spend too long in the shower.  Learn to take a 5 minute shower.
When you come out of the shower, do not completely dry yourself, and immediately apply gentle cream or lotion from head to toe to lock in the moisture.
Use topical steroids in order to combat affected skin patches.  For kids we found the ointment, though a little messier, was more effective. Take care when topicals are used for extended periods of time.  It thins the skin, which can be especially problematic in the summer. Don't forget sunscreen, too!
Keep nails cut short to avoid the temptation.  We even tried gloves and socks at night.  Try to avoid scratching with sharp objects, but be sure to properly sanitize them if they are used inappropriately. We often had concerns with "weepy" skin and needed to keep it covered in public.
If you choose to add humidity during the winter months be careful to balance that with possible dust mite allergies.  We initially used warm mist humidifiers and that was a big mistake, even though it feels great.  Unfortunately it took us a while to make that link.  As it turns out, a more moderate temperature is better – that and additional circulation with a ceiling fan.
Stay hydrated by drinking plenty of water
After swimming in a chlorinated pool, be sure to rinse immediately and apply moisturizer.
Pruritus is worse at night, so take an anti-histamine like Benedryl or prescription Atarax to help with the itching.  Atarax is effective for a longer period of time, so it's a favorite in our house.
Although the "itching" in our house brought many tearful nights, and nasty looking skin patches that persisted for years, it did get better over time, with changes. It is important to note that is was much worse during treatment with interferon. Pruritus truly is a horrible, sometimes unrelenting symptom for those with more advanced liver disease.  Although the above ideas are worth investigating, it is important that you discuss severe pruritus with your doctor.  There are more potent prescriptions available that might help reduce the relentless itching.
Got any tips for reducing the itch? Feel free to comment and share your ideas with others living with HBV.