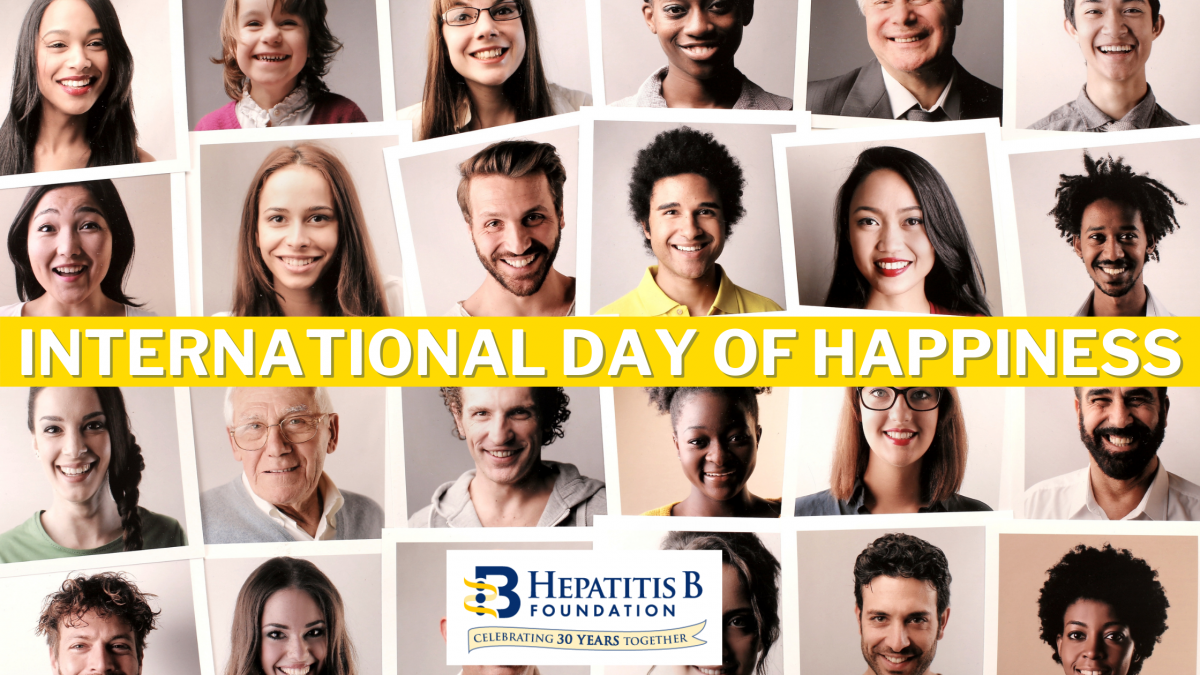 Saturday, March 20th, marks International Day of Happiness! The United Nations established this day to recognize "the need for a more inclusive, equitable, and balanced approach to economic growth that promotes sustainable development, poverty eradication, happiness, and the well-being of all peoples." In 2015, the United Nations launched the Sustainable Development Goals which seek to end poverty, reduce inequalities, and protect our planet which all leads to well-being and happiness.
Action Items to Celebrate International Day of Happiness
Celebrate Health and Happiness –
Share a meal with family and friends today! It might not be the best idea to gather in-person during a global pandemic, but you can do this virtually over Zoom or another video sharing platform like Google hangouts or Facetime. Virtually surround yourself with the people you love by sharing a liver-friendly meal. A liver-friendly meal should include lean proteins, fruits and vegetables, and less processed foods. If you plan to gather in-person, a socially-distant meal is recommended. For example, you can use outdoor spaces like parks or backyards to gather and sit an appropriate distance away from each other.
Mental health is just as important as physical health. Research studies have found people living with hepatitis B experience higher rates of depression and anxiety than the general population. This comes as no surprise as there is no cure (although scientists are tiredessly working hard to find one), people with hepatitis B face stigma and discrimination, and when people disclose we risk facing rejection from our peers, friends, and family. But International Day of Happiness does not focus on that. Instead, we will focus on the things, activities, and people who make you happy! This could be taking a walk in the park, baking or cooking for your family, gardening, or crafting. Being mindful and taking time for yourself to do the thing you enjoy about life is important for your happiness. We know a hepatitis B diagnosis does not define you nor defines your happiness. If you want to share want makes you happy, you can through our new campaign, More Than B! Check it out here.
Reduce Inequalities –
Please join the Hepatitis B Foundation in calling upon all companies developing COVID-19 vaccines to include people living with hepatitis B and liver disease in their clinical trials, and to make the resulting sub-group data publicly available. The inclusion of these groups in clinical trials will help improve access to approved vaccines and will broaden trust and acceptance of the vaccines, especially among those who are unsure if they should receive any COVID-19 vaccine. We must account for groups who may be more susceptible to severe illness from the coronavirus. Data is one of the most powerful tools we have to build vaccine confidence amongst vulnerable populations, and one we must fully utilize in order to earn the trust of concerned communities. We must ensure that the voices of the 300 million people around the world who are living with hepatitis B are not forgotten. Add your voice here!
What better way to celebrate than to learn more about your own and your family's health and to contribute to better health and well-being for your whole community, both now and in the future? The All of Us Research Program is working to make health and medical research more diverse, inclusive, and representative of the actual population in the United States, so that doctors can move toward precision medicine and away from making diagnosis and treatment decisions based on an "average" patient. Participation is especially important for Asian, Pacific Islander, and other community members, who are the least represented. By enrolling in the study, you can get information about your own health and genetics, help move science forward, and even play a role in guiding the research itself! The program holds itself to the highest standards of confidentiality and you can stop participating at any time. Help make the world a healthier and happier place! Learn more and sign up at www.joinallofus.org.