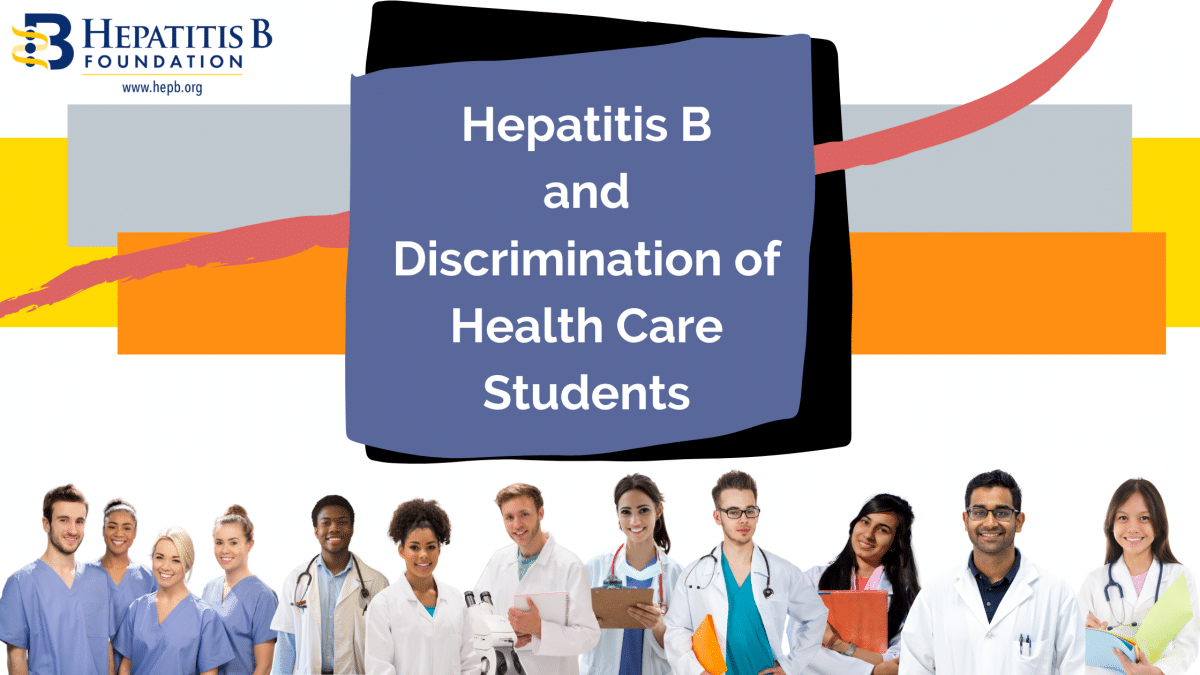 Hepatitis B and Discrimination of Health Care Students
Hepatitis B virus (HBV) infection affects more than 290 million persons globally and up to 2.2 million persons in the United States. Living with hepatitis B can mean living with stigma and facing discrimination. Stigma related to hepatitis B is often caused by low awareness​ from the general public and health care providers. Low awareness can lead to fear and misconceptions about the disease. Discriminatory practices that affect health care students with hepatitis B infection may include unjustified denial of school admission or enrollment, restriction of clinical training, or dismissal from an academic program. Given substantial progress in hepatitis B research and treatment in recent decades, it is important to address discriminatory policies that affect health care students.
Kate Moraras, Deputy Director of Public Health at the Hepatitis B Foundation led a research project which found that 36 accredited health care programs in Pennsylvania (43%) had policies which appear to be discriminatory against students living with hepatitis B. These policies included requiring proof of hepatitis B immunity for enrollment or program completion. Failure to produce proof could result in revocation of program admission or not being allowed to enter clinical rotations. This is problematic because the Americans with Disabilities Act (ADA) protects individuals living with hepatitis B. The Department of Justice (DOJ) states that there is no lawful basis for excluding persons living with hepatitis B from health profession schools. Not only does the DOJ protect individuals living with hepatitis B, but the Centers for Disease Control and Prevention (CDC)  states that health care students with hepatitis B pose no risk to patients and should not be limited in their health care education. The CDC recommends that health care students should not be arbitrarily excluded or restricted from activities that could impede practice or studies. They additionally recommend hepatitis B testing only for healthcare providers at increased risk of infection or conducting invasive, exposure-prone procedures and most health care students are not participating in these invasive procedures. If you want to know what to do if you are facing discrimination visit the Know Your Rights section of our website.
 Resources
Please join Hep Free Hawai'i, ACLU Hawai'i, the National Task Force on Hepatitis B: Focus on AAPIs, Hep B United, and Hepatitis B Foundation on October 15th at 6PM ET to address hepatitis B discrimination among health care students. Dr. Chari Cohen, Senior Vice President of the Hepatitis B Foundation and Taylor Mangan, University of California President's Public Service Law Fellow at ACLU Hawai'i will discuss hepatitis B related institutional discrimination against health care students, current protections and recommendations in place to protect health care students from discrimination. Register here.
The Hepatitis B Foundation's website has an entire page focused on the rights of individuals living with hepatitis B. Check it out each section:
Reference
Moraras, K., Block, J., Shiroma, N., Cannizzo, A., & Cohen, C. (2020). Protecting the Rights of Health Care Students Living With Hepatitis B Under the Americans With Disabilities Act. Public Health Reports, 135(1_suppl), 13S-18S. https://doi.org/10.1177/0033354920921252
Author: Evangeline Wang, Program Coordinator, Hepatitis B Foundation
Contact Information: info@hepb.org