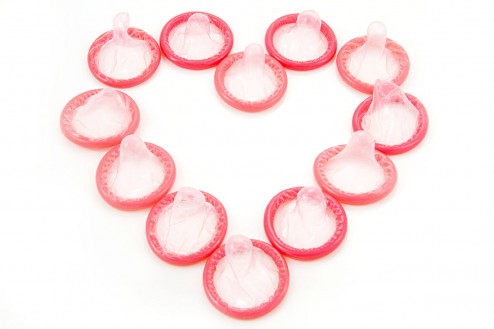 Please be sure to love safely this Valentine's Day.  Are you living with HBV or hoping to avoid living with HBV? HBV is a vaccine preventable disease that is effectively transmitted sexually. If you are not infected with HBV, why not get vaccinated and protect yourself for life? The HBV vaccine is a safe and effective, 3 shot series. If you think you might be in a high risk group for HBV, talk to your doctor about first being screened for HBV before being vaccinated.
If you already have HBV, the vaccine won't protect you. You need to talk to your doctor about your HBV status and whether or not you would benefit from treatment at this time (Not everyone needs treatment, but you need blood work interpreted by an HBV knowledgeable doctor to be sure).
Show the love by protecting yourself and your sexual partners by wearing a condom. They protect the mouth, vagina or rectum from infected semen if used consistently and correctly.  Keep in mind that the riskiest sexual activity is unprotected receptive anal intercourse. This is because the lining of the rectum is very thin and more likely to bleed leading to the possibility of infection with blood borne pathogens like HBV, HCV and HIV, along with other sexually transmitted diseases. Receptive vaginal intercourse is the next highest risk. Although the lining of the vagina is stronger than the rectum, inflammation, infection, or microscopic scrapes make the vagina vulnerable to unprotected intercourse. The likelihood of blood borne pathogen transmission with oral sex is least risky, but that is because the risk of blood contact is much lower. However, any kind of intimate sharing of bodily fluids presents some degree of risk of transmitting blood borne pathogens like HBV, HCV and HIV, and may effectively transmit other sexually transmitted diseases.
It's important if you're living with HBV, not living with HBV, or not quite sure of your infectious disease status. If you are living with HBV, properly wearing a condom keeps you safe from becoming co-infected with another infectious disease. No one wants a co-infection.  It complicated and dangerous for your health.  If you do not have HBV, then avoid getting an infection by you or your partner wearing a condom. HBV is vaccine preventable, but HCV, HIV and other STDs are not vaccine preventable. Considering the health and safety of yourself and your sexual partners is paramount. You may not know what they have, and they may not know what you have. Why take the risk? Love safely, get vaccinated against HBV, and wear a condom consistently and correctly. "Share affection, not infection".