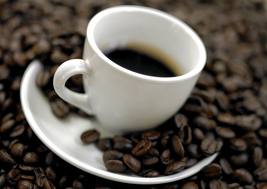 The pros and cons of drinking coffee have been wildly debated for years.  However, for those with Hepatitis B and other liver diseases, the addition of a couple of cups of coffee per day to slow down the progression of liver disease, along with decreasing the risk of diabetes and heart disease just makes sense.
Dr. Melissa Palmer was a guest speaker at a previous Hepatitis B Foundation patient conference. The information from her presentation had all sorts of nutritional nuggets for those with HBV (Check out Dr. Palmer on podcast if you would like to have a listen!) She stated, based on studies, that coffee and caffeine intake has been associated with improvements in liver ALT and AST levels.  There also seems to be a correlation between increased coffee consumption and warding off cirrhosis and HCC.
Just recently there are was an article that discussed the benefits of coffee for those patients with HCV, undergoing treatment with pegylated interferon (PEG) and ribavirin therapy.  It claimed that drinking three or more cups of coffee a day not only reduced some of the difficult side-effects associated with treatment of PEG, but it also increased the treatment success.  However, like so many of these coffee studies, it was a small study and had to be adjusted for other factors.
We all know that HBV and HCV are very different viral infections, but you have to wonder if any of the benefits of coffee that is seen in those being treated for HCV can be extrapolated to include those with HBV being treated with Pegylated interferon or antivirals.  Dr. Palmer did mention that coffee did seem to have a greater impact on those with hepatitis C, although I have no idea why.
Regardless, if you're living with HBV, you have to think about the pros and cons of adding coffee to your daily list.  Since all studies seem to show an increased number of cups of coffee having a more positive impact on preventing liver disease progression, or warding off cirrhosis or potentially reducing PEG side effects or benefiting treatment, you have to consider just how much caffeine you can take.  It does not appear that caffeine is the only factor involved, but rather the coffee bean itself and associated antioxidant features.  This seems to be the case because tea, despite all of its benefits, does not appear to have the same protective effect on the liver.
What about decaffeinated coffee?  I kept looking to see if it was specifically referenced, but I haven't seen it. However, during the decaffeinating process, much of the bean is lost, and it may be treated with a chemical solvent, both which might nix the positive benefits.  If you're going to give decaffeinated coffee a try, consider a coffee with a more natural decaffeinating process. Personally, I'd have a tough time balancing the jitters and racing heart rate associated with drinking more than a cup or two of high-test coffee a day, but we're all individuals.  If you can drink coffee and sleep well at night, it seems like it can't hurt your liver health to add a few cups to your daily regimen.