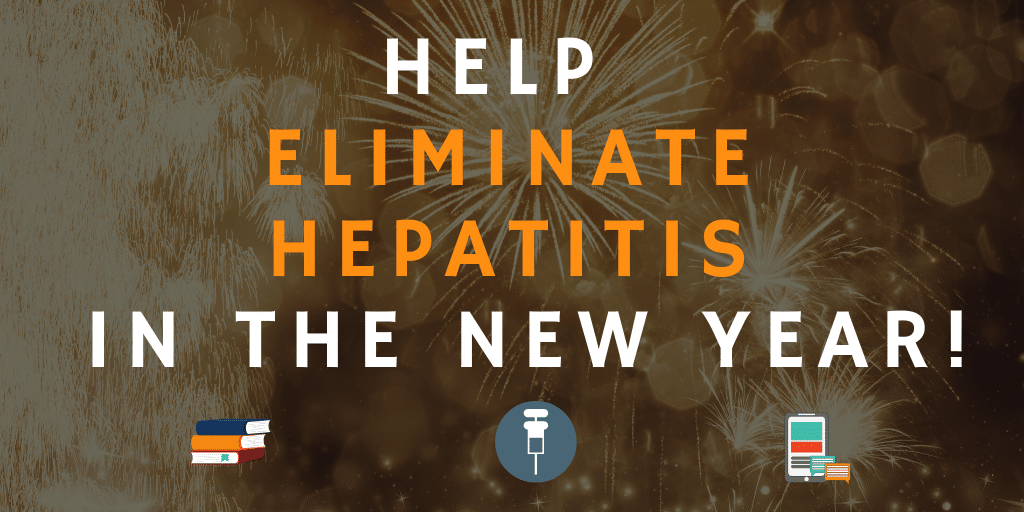 With a new year right around the corner, now is a great time to reflect upon the past year and plan for the one ahead! 2020 is the start of a new era, but it also means that we have just 10 more years left to reach the World Health Organization's 2030 goal of eliminating viral hepatitis. Many strides have been made over the years. In order to truly work towards elimination, we need everyone's help – including yours!
Take Care of Your Health:

The hepatitis B virus and your liver health can change over time, making regular doctors' appointments essential to staying healthy and preventing liver disease and possibly liver cancer. Take a few hours this January to sit down and schedule your healthcare appointments for the year. Following up with your healthcare provider will allow them to monitor the infection, identify any signs of liver damage, and prescribe treatment early, if needed, to prevent further damage.
If you were diagnosed with acute hepatitis B and recovered, there are steps you can take to take care of your health too! You – and your healthcare providers – should be aware of the risk of reactivation, and how to prevent it. Always read the warning labels on over-the-counter medications, and make sure that anyone prescribing medication to you is aware of your past infection.
Get involved:

Researchers are working hard each day to find a cure for hepatitis B and while they do so, there are many other issues in the hepatitis B community that can be addressed with the help of people like you! If you are in the United States, you can join our

advocacy network

to be notified of opportunities to take action. If you are located in another country, get involved with the

#NOhep campaign

,

or

search for World Hepatitis Alliance members

near you to see what activities you can take part in. It's essential for us to work both within our own country and globally. When we work together, our voices will be heard! 
Get tested – or encourage others to:

Despite being the most common liver disease in the world, just 10% of those infected are aware that they are living with hepatitis B. It is very important that people with hepatitis B are tested – especially because hepatitis B does not have any symptoms. Start small by encouraging your family members and loved ones to get tested or offering to go with a friend to their doctor's appointment. If you want to help on a larger scale, you can volunteer with local health organizations who are active in the hepatitis community. 
        Perhaps your friends and family have already been tested and      found out that they are not – and have never been – infected. That's great! Now, it's time to make sure that they get vaccinated to protect themselves. Remind them to schedule an appointment to receive their vaccine, and check in on them to make sure that they receive all necessary doses. Increasing global vaccination rates – especially in high-risk communities – is essential to meeting the 2030 elimination goals.
Put Your Social Media to Good Use:

Technology is one of the best and most powerful communication tools that we have. Consider spreading positive, accurate messaging about hepatitis B in the new year to help destigmatize the disease, raise awareness, and combat false information. Start simple by liking, retweeting, and sharing posts by groups that are working hard to educate others!  Be sure to follow reputable organizations so that the information you are receiving and passing on is correct! Join the Hepatitis B Foundation community on

Facebook

,

Twitter

,

and

Instagram

for international updates and

Hep B United

on

Facebook

,

Twitter

, and

Instagram

for hepatitis B information in the United States! 
For those of you who may be struggling to cope with your diagnosis or are dealing with stigma and discrimination around your diagnosis, the suggestions above may not be for you. Instead, consider taking 2020 to empower yourself by learning more about hepatitis B and sharing your experiences, even if you are only comfortable sharing anonymously. Remember, you are not alone! Over 292 million individuals are living with hepatitis B and each person has a story to tell. 
The only way to fight stigma and discrimination is to make it known that it is unacceptable. Many of our #justB storytellers have faced the same obstacles that others are currently going through. Take some time in 2020 to watch some of our #justB storytelling videos that share the journeys of brave men and women who have found the strength to speak about their diagnosis and how hepatitis B has impacted their lives or family. Other global storytelling campaigns, such as the World Hepatitis Alliance's #StigmaStops Campaign, or online support groups can provide support, too. However you decide to contribute to eliminating hepatitis B, your efforts will be appreciated!