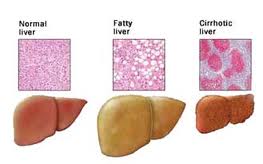 Join the Hepatitis B Foundation, Monday, April 22 at 1 pm EST, 10 am PST, for the final webinar of the 3-Part Liver Cancer Webinar Series, "Liver Cancer and Fatty Liver Disease: What You Need to Know", presented by liver disease expert, Kenneth Rothstein, MD.
There is an upsurge in fatty liver disease in the U.S. and around the world as a result of poor diet, consumption of alcohol, and sedentary lifestyle. Fatty Liver Disease occurs when fat makes up more than 5% -10% of the weight of your liver, which can be a result of either alcoholic, or non-alcoholic fatty liver disease (NAFLD). This accumulation of fat can cause inflammation and permanent scarring of the liver, which may lead to serious complications including liver failure, and liver cancer. Learn about fatty liver, which is largely preventable.
Liver cancer is the third leading cause of cancer-related deaths and the seventh most common cancer worldwide. Learn how to prevent liver cancer, along with screening, surveillance and treatments for liver cancer.

Dr. Rothstein is the Associate professor in the Department of Medicine, and chief of the Division of Gastroenterology and Hepatology at Drexel University College of Medicine. He also serves as medical director of Abdominal Transplantation at Hahnemann University Hospital. 
Dr. Rothstein is a leading expert in the field of hepatology, with over 20 years of experience. He specializes in the treatment of liver disease and liver transplantation, particularly treating the complications of cirrhosis, including liver cancer. He is also a recognized expert on new treatments for hepatitis B and C.
"Fatty Liver Disease and Liver Cancer: What You Need to Know" webinar details:
Presented by: Dr. Kenneth Rothstein
Date: Monday, April 22, 2013
Time: 1 pm EST, 10 am PST
Click here to register
Did you miss the previous webinars of the series? Feel free to download them and listen at your leisure:
Download the March 6th Webinar and listen to Hepatitis B and Liver Cancer: What You Need to Know, by Dr. Robert Gish.
Download Now
Download the March Webinar and watch the video, Hepatitis C and Liver Cancer: What you Need to Know, by Dr. LaBrecque.
Download video
For additional accurate, easy-to-understand information on liver cancer, visit the Hepatitis B Foundation's dedicated website, www.LiverCancerConnect.org.