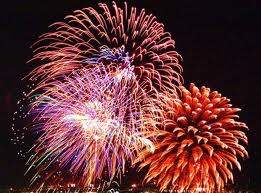 Are you gearing up for the 4th of July, holiday?  Planning on a couple of days of fun, sun, fireworks, and holiday picnics and parties?  If you're living with hepatitis B, you will want to be sure to abstain, or at a minimum, keep your alcohol consumption extremely restricted.  Some of the statistics out there linking alcohol consumption to liver disease are sobering (no pun intended), even for those that do not suffer from liver disease due to viral hepatitis.  If you have HBV, drinking just doesn't mix with love N' your liver.
So just how much alcohol is too much?  Like everything else, alcohol tolerances vary with the individual, so the amount will vary.  Some people, with or without HBV, may be more prone to liver disease due to contributing factors such as fatty liver disease, hemochromatosis, autoimmune hepatitis,  or hepatoxicity – exposure to certain drugs or environmental and chemical toxins causing liver scarring .   Remember that the liver is basically a very quiet, essential, non-complaining organ.
If you have HBV, you know your tolerance for alcohol is going to be nil.  Drinking will contribute to liver disease.
For healthy women who do not have hep B, 20 grams of alcohol, per day and for men without HBV,  60 grams of alcohol per day is risky business and may very well contribute to liver disease.  This equates to 60 ml. of sixty-proof liquor, or 200 ml. of wine (12% alcohol), and 500 ml of beer (5% alcohol).  A visual always works best for me: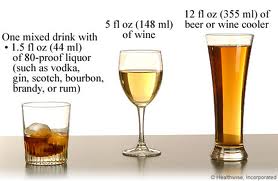 Ouch… Even if you do not have HBV, you are risking your liver health when you drink casually, on a daily basis.  For women, this basically equates to one mixed drink, glass of wine or beer per day, while the limit for men may be three alcoholic drinks per day.
If you've got HBV, perhaps it's time to eliminate alcohol from the party scene and replace it with a thirst-quenching, non-alcoholic beverage.  If not, you might consider one drink for the holiday weekend, and abstain for very l-o-n-g periods of time without alcohol.  Consider one glass of wine, occasionally, the new "binge drinking" level if you wish to best maintain your liver health.  Let's face it:  abstinence is best if you're really looking to limit the damage done to your liver.  There are so many toxins that our liver silently removes on a daily basis.  This is one toxin we can choose to control, and eliminate from our environment.
So, light up the sky with fireworks.  Eat your favorite, healthy foods this weekend, and make a commitment, starting this weekend, to remove alcohol from your life, and love your liver.